If you've been involved in the vaping community, then you probably know that the SMOK Alien has been one of the most popular mods over the last year. You've probably also noticed how mini mods are extremely hot right now as well. With that in mind, you can understand our excitement over what we're about to review: the SMOK Baby Alien Kit! It doesn't pack the full 220W that the Alien offers, but what it does offer is impressive. Let's get right to it…
Review: SMOK AL85 Baby Alien Kit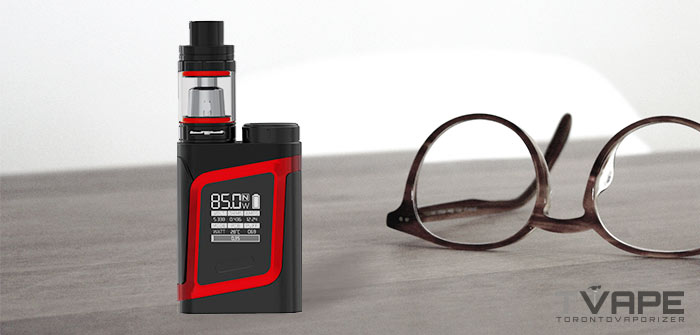 Manufacturing Quality
The manufacturing quality of the Baby Alien is fantastic. First of all, this is among the smallest mods that are available. You can technically find smaller ones, but those save room by cutting features and functionality. The AL85 doesn't sacrifice anything.
For starters, you get the full range of power options, which we'll go over in more detail below. It's powered by a removable 18650, so you won't have to deal with the drawbacks of built ins like so many mini mods run with. The screen is also large for the overall unit size, making it easy to read and navigate all the settings.
To make it even better, the machining is extremely nice and there's a huge range of great color schemes. From a slick black on black to a flashy "full color" option, there's a lot to choose from.
The icing on this kit is the included TFV8 Baby Beast Tank. This 22mm tank offers a 3ml capacity and huge performance as far as flavor and clouds go. The top is hinged for easy top filling, and its airflow control works well. Two coils are included, one thats 0.4 ohms and one that's 0.6 ohms (both are dual coils).

Flavor Quality
The vapor quality is excellent from this kit. We're specifically reviewing the full kit, including the Baby Beast tank, but you could obviously pair the mod with one of your own tanks.
My guess is you'll enjoy the Baby Beast tank a lot though, and if this would be your first vape, the Baby Beast is a fantastic tank to start out with.
It really doesn't matter if you are chasing flavor or clouds. This kit offers both. The clouds it can churn out are massive, even if it only offers 85W compared to the full-sized Alien's 220W.
The flavor is great as well, though I definitely recommend you let new coils soak overnight or at least for a few hours to get the best performance possible.

Power Flexibility
It would probably be easier to list what this can't do than to list all the things it can do, but let's just jump right in. When it comes to powering the device, you can start in one of two places: wattage or temperature control.
If you choose wattage, you then have to choose between a soft, normal, or hard draw effect. This just corresponds to how quickly the vape will reach your set wattage as you hold the button. In wattage mode, you can use coils from 0.1 ohms to 3.0 ohms.
If you go with temperature control, you then set your maximum wattage, the coil material, and finally the TCR. The resistance range is roughly the same, but extended to 0.06 ohms on the bottom end.
The wattage range is 1 to 85 watts, while the temperature range is 200F to 600F.
If you aren't used to all the settings, you may have a hard time with this at first. This has nothing to do with the design of the vape and everything to do with learning about wattage and temperature control modes, along with all the settings that come with them.
The actual menu design is great compared to many vapes, especially with the big screen. There are also 8 presets that you can set, which is great if you frequently vape with different tanks or coils.
This allows you to quickly swap them out without having to take time to adjust the settings again.

Portability
Portability is about as good as you are ever going to get out of a box mod with this many features. This thing is extremely tiny, but still manages to offer removable 18650 battery power.
This is important because it means you can make sure your batteries stay fresh over time, and you can also keep multiple on hand to extend the time you can go without charging.
On top of all this, the 3ml tank is a good capacity for the size, and the top-fill design means it's easy to quickly refill while on the go.

Overall Experience
Like we expected, this is an extremely good kit. As far as mini mods go, the AL85 is one of the best on the market and we expect it will quickly become one of the most popular as well.
If you're looking for something portable with all the features that box mods offer, you're really not going to find anything that does a better job than this. If you think that this isn't portable enough, then you may want to check out a truly mini-mod like the Vaporesso Target Mini.
The wattage range is even impressive. The 85 watt upper limit allows this to outperform many full-sized units. There are obviously a lot of mods that can pump out significantly more power than this, and if that's what you are after, then you may want to look at a unit like the Coolfire IV 100W.
We hope you enjoyed reading our Smok AL85 review! We would love to hear from you! Feel free to leave a comment in the section below, you can do so anonymously 😉 Don't forget to follow us on
Facebook
,
Twitter
or
Instagram
for contests, sales alerts and other fun stuff! Thanks for reading and as always, keep vapin'! 😉