Updated: September 7, 2020
The new Smok RPM40's design is reminiscent of a shrunk down Smok Cuboid box mod and to be honest, it looks sleek, perfectly ergonomic, and pocket-friendly. All of the design traits we want in our vape pods.
With a power output range of 1 – 40 watts that can be easily be adjusted with the help of a 0.96" TFT LCD screen, a built-in battery with a capacity of 1500mAh, a new IQ-R chip that provides a lightning-quick firing time of 0.001s, a short charging time of around two hours.
Smok is on a roll with vape pods in the form of the Nord, Smok Novo 2, Smok Trinity Alpha Pod, and now – the RPM 40. Keep reading below to find out more about this awesome vape pod.
If this is your first vape, check out our useful Vape Ranking to see the best the vaporizer industry has to offer. If you are in a good mood and want to see the best dry herb Vaporizers, follow that link.
Review: Smok RPM40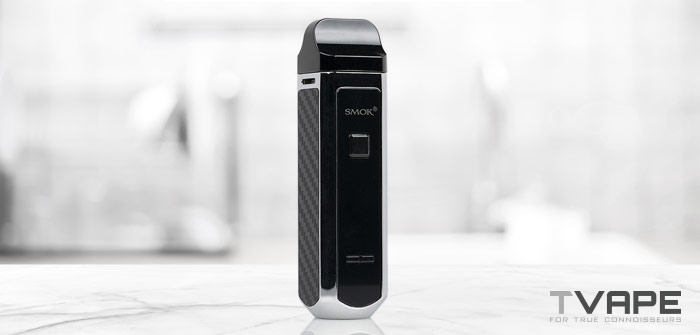 Manufacturing Quality – Is the RPM40 better than the Nord?
The first of Smok's vape pod lineup to feature a TFT LCD screen that displays all that vaping information you will need, including wattage and voltage levels, coil resistance, puff count, and battery levels.
The Smok RPM40 incorporates it in a sleek, cuboid shape that is adorned with either carbon fiber accents or resin-like materials that feels nice to the touch.
This will definitely be a hit with vapers who love carbon fiber and resin designs. This vape pod is smooth to hold with its linear shape and a tactile rectangular firing button that oozes quality at every click. It also has two buttons below the screen that allows you to adjust your wattage and voltage with ease.
If the design language looks familiar, you are probably remembering the Smok Cuboid box mod which was launched a few years back. This isn't a bad homage at any degree, the sleek profile that the Smok RPM40 has is a classic and clean look. We definitely prefer it over the ultra-fancy designs that some other vape pods have.
The Smok RPM40 sports a gloss black mouthpiece that has a wide opening reminiscent of a classic box mod's drip tip which helps in getting a substantial draw for that oh-so-satisfying throat hit.
The mouthpiece is part of the included 4.3ml capacity RPM Standard and 4.5ml capacity RPM Nord pod (depending on the installed coil) which fits in snugly with the body of this device. There are no issues with pulling out and re-inserting the pod to the body, they fit perfectly and sits flush with each other.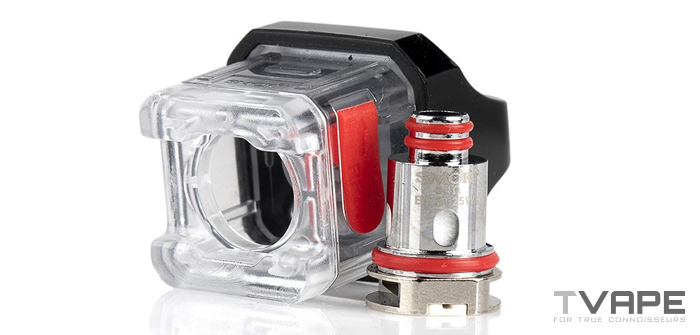 There are eight colors currently available for the Smok RPM40 vape pod: Bright Black, Prism Chrome, Purple Red, Prism Gold, Prism Rainbow, White, Orange, and Green. Personally, we absolutely adore the White colorway, with a sophisticated, clean appearance and a touch of resin-like paint splash on the sides.
Smok has nailed the color choices offered for this release of the Smok RPM40 vape pod, there will be a colorway that fits your style.

Flavor Quality – How good is the vapor from the RPM40?
The Smok RPM40 includes a 4.3ml capacity RPM Standard pod with a RPM Mesh 0.4 coil preinstalled and 4.5ml capacity RPM Nord pod with a Nord DC 0.6 coil preinstalled, both of which are recommended to be used at 25 watts power output.
The Nord DC 0.6 coil gives out a cleaner, more direct flavor and nicotine hit at the expense of lesser vapor production while the RPM Mesh 0.4 coil produces more flavor with a slightly muted flavor and nicotine hit.
We personally prefer the vapor dynamics that the Nord DC 0.6 coil offers at 25 watts, it seems to be the perfect companion that offers satisfying hits of flavor and nicotine throughout the day. We used a 50/50 VG-PG e-liquid and never noticed any leaking issues, the vapor and flavor were consistently delivered throughout our testing period of five days.
The Smok RPM 40 can also be used with the following RPM coils:
RPM Mesh Coil 0.4ohm
RPM Triple Coil 0.6ohm
RPM Quartz Coil 1.2ohm
RPM SC Coil 1.0ohm
RPM RBA (upcoming)
With the wide variety and availability of these coils offered for the Smok RPM40, getting your preferred vapor experience is easier than ever. Be sure to try out all the available coils so you can be assured of your preferred Smok RPM40 vaping experience. If you've been using big box mods with 510 carts it may be time to look for something smaller, most vapers tend to start with Vessel 510 thread battery for their oil because it's much more compact than a mod. 
Power Flexibility – 40 Watts of Power in a Pod-Vape
The Smok RPM 40 offers variable wattage from 1 – 40 watts of power output. The maximum of which is rarely needed, if ever. We found that 20 – 25 watts are the sweet spot in getting the flavor, vapor thickness, and vapor temperature that we prefer on the pods we have tested.
Although this may be different for you, the beauty of the Smok RPM 40 is that it provides you with the choice of fine-tuning your preferred power output. The new IQ-R chip provides a lightning-quick firing time of 0.001s so every time you press that fire button, you will be getting an instantaneous firing response that never disappoints.
The battery life easily lasts for an entire day when using the SMOK RPM40 in the 20 – 25-watt power range. And if ever you are the type who prefers to vape at the maximum output of 40 watts, the Smok RPM40 gets a zero to 100% of battery charging time at only around two hours so it will be easy to keep the device charged throughout your day.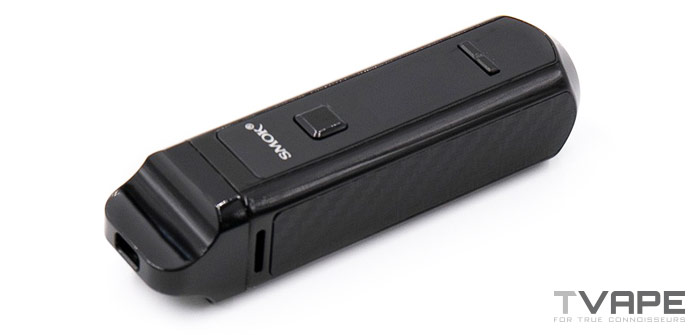 Ease of Use – Is the RPM40 still easy to use?
Smok has always been known in manufacturing vape pods that are easily accessible to any type of vaper with the simplicity and ease of use that you just cannot compare with most of the vape pods available in today's market. That trend continues with the Smok RPM40.
Five clicks on the firing button powers it on, and the same amount of clicks power it off. The wattage adjustment buttons below the TFT LCD screen allow you to adjust the device's power output on the fly so there are no issues when trying to get the perfect vaping experience that you want.
Filling the pod with more e-liquid is as easy as pulling out the pod from the body, pulling the rubber plug on the side of the pod and adding more e-liquid, closing the rubber plug, and pugging the pod back to the body. Smok has always made devices that are easy to use even without taking time to read the manual and it is no different here.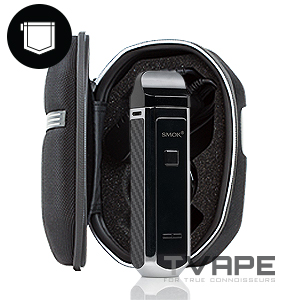 Portability – Small and Plenty of Charge
With the Smok RPM40's dimensions coming in at 25 x 25 x 99 mm (H-W-D) and weighing at 99 grams, it is extremely convenient to hold in your hand and fit in your pocket for daily use.
Its compact and sleek appearance is a boon to vapers who like having their pods handy but not too small as to take away from the ease of handling the device.
We do recommend placing this device inside a pouch if your pockets are always lined with other things that can scratch the nice glossy finish on this pod but it is up to you.
The 1500mAh battery has more than enough endurance to last most vapers throughout the day so you probably won't have a need to charge this device when you are out and about but in case you need to, just carry the short micro-USB cable included in this device that fits in your pocket so you can easily charge it anywhere you go.

Overall Experience – Smok RPM40 isn't just spinning its wheels
Smok has hit a homerun with this vape pod. The Smok RPM40 checks all the boxes that a vaper needs in a device that has so much power, flexibility, and endurance for such a small body.
With the wide array of compatible coils that cater to most types of vapor preference that vapers have, there is simply no good reason why we cannot recommend this device. This is one of the most feature-packed vape pods in the market right now and you will not regret having one in your pocket.
We hope you enjoyed reading our Smok RPM40 review! We would love to hear from you! Feel free to leave a comment in the section below, you can do so anonymously 😉 Don't forget to follow us on
Facebook
,
Twitter
or
Instagram
for contests, sales alerts, and other fun stuff! Thanks for reading and as always, keep vapin'! 😉