The Yocan Evolve Plus wax pen features a dual quartz coil atomizer, an 1100mah battery, and a built-in wax storage container for easy transportation. This wax pen is simple and straightforward and may be a good starting point for beginners. Let's take a closer look to see to just how Yocan's wax pens are evolving. Also if this is your first time buying a wax pen, be sure to check out our Wax Pen Buyers Guide to further educate yourself on the world of wax pens.
Review: Yocan Evolve Plus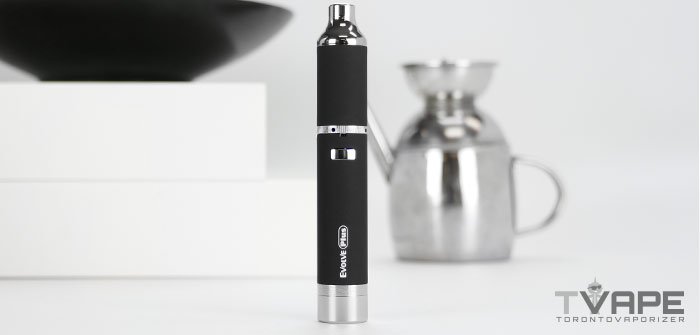 How it Works
To load your Yocan Evolve Plus, twist the mouthpiece to remove it from the body of the pen and expose the atomizer. Next, unscrew the coil cap to expose the heating chamber and load the chamber with your choice of concentrates. We recommend loading the concentrates directly to the coils but be sure not to touch the coils with your metal packing tool as it can damage them. Once your wax is loading in place, put the coil cap back on the atomizer and screw back on the mouthpiece.
To turn the wax pen on, press the power button on the unit 5 times quickly. The light around the button will illuminate to let you know the device is now active. Now simply press on the power button while you draw from the mouthpiece.
Temperature Flexibility
The Yocan Evolve Plus does not offer any type of temperature control, which is a bit disappointing. It seems like temperature control is not a feature Yocan puts much stock in as none of the units we have reviewed, like the Magneto, feature the ability to control your temperature.
The only way you can try and regulate the temperature on the Yocan Evolve Plus is by pulsing the power button as you draw. What we mean by this, is rather than just holding down the power button and drawing, hold the power button down for 3 seconds, release it for 1 second, hold it for another 2 seconds, release it, etc. This will help maintain an even temperature and will keep the coils from getting too hot.

Vapor Quality
Vapor Quality from the Yocan Evolve Plus wax pen is what we expected from a dual coil quartz atomizer. This atomizer set-up is not exactly groundbreaking and has been utilized on a lot of wax pens, most notably the Kandypens Galaxy.
Flavor from the Yocan Evolve Plus is decent as long as you try and control the temperature of the coils through the method we mentioned above.
If you just press and hold the Evolve Plus, your draws tend to get very harsh and start to taste burnt by the end. 

Manufacturing Quality
For the price, the Yocan Evolve Plus is a well put together wax pen. It feels sturdy in the hands and performed without issue during our testing.
Yocan tries to set itself apart from other wax pen manufacturers with their unique atomizer cap system.
This cap works similarly to a carb cap on a traditional rig, allowing the ambient temperature around the coils to remain hot for a more efficient vaporization process. It also helps guard against any sort of splatter.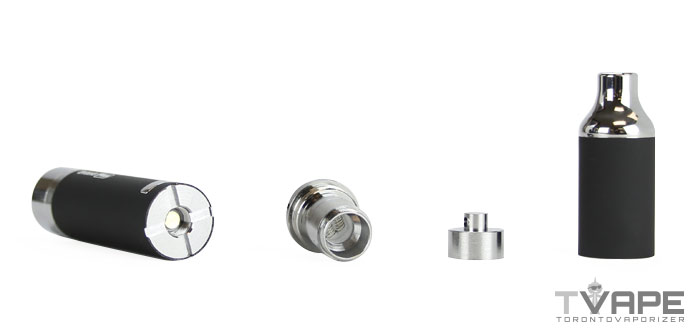 Battery Life
The Yocan Evolve is shaped closer to a marker than it is a pen. This extra girth means that Yocan was able to outfit the Evolve Plus with an 1100mah battery. This is almost double the standard 650mah battery found in most pen vapes meaning you will be able to get a lot more draws from the Evolve Plus on a single charge.
In our tests, we found with moderate usage we were easily about to go a couple days before needing to charge our Evolve Plus.
The battery on the Evolve Plus charges via micro USB, so even if you do find yourself low on power, find a place to charge your Evolve Plus battery while out, should be relatively easy.

Portability
As we previously mentioned, this wax pen is not so much pen-shaped as it is marker shaped. While it is wider than a lot of wax pens, it will still easily slip into a pocket or bag for easy transportation.
The Evolve Plus also features a built-in silicone wax container which makes taking your concentrates with you much easier.
The battery on the Evolve Plus also makes it more favorable to take around with you. With such a large battery, it is sure to last a full day of vaping.

Ease of Use
This device is extremely straightforward to use. There is just one button and a fixed temperature, which keeps the learning curve on this device low. 5 clicks on the power button turn it on and off, and you simply press and hold the power button while you draw to enjoy your concentrates. 
Discreetness
This unit shares a similar shape, size, and design as many e-liquid vape pens currently on the market, which is great for keeping things discreet. This means most people who spot you using this in public will merely think you are enjoying some e-liquid rather than concentrates. Its small size also means it is easy to palm or pocket quickly if the occasion ever arises. 
Overall Experience
Overall the Yocan Evolve Plus is a competent starter wax pen, especially for the price. The battery life and included storage system are welcome perks, but vapor quality is just average. If you are interested in picking one up, you can grab one right from our shop.
If you are looking for a unit that offers superior flavor and vapor quality, we strongly recommend checking out the Zeus Thunder 2. The Thunder 2 features a similar user-friendly experience but excels in producing super tasty vapor.
Compatible with ZEUS Iceborn
This vaporizer is compatible with the ZEUS Iceborn, a revolutionary new vapor cooling system engineered by Canadian vape manufacturer ZEUSArsenal. The Iceborn is designed to produce cooler draws and bigger clouds when connected to your vaporizer. The vapour produced is ultra smooth and crisp and because of ice cooling, instead of water filtration, there is no loss of efficiency. The ZEUS Iceborn adds an additional 2 points to the vapor quality score of this vaporizer and is a highly recommended vaporizer accessory.
If you have questions about our review or just want to let us know what you think, feel free to drop us a comment below! Also, don't forget to follow us on Facebook, Twitter or Instagram to keep up to date with all our contests, sales alerts and other fun stuff! Thanks for reading and as always, keep vapin'!