Another release by Flowermate, a popular budget brand, the Flowermate Aura Vaporizer has now been around for a couple of years. With a small form factor and reliable reputation behind the brand, we check out how the Aura performs in 2018, and see how it stacks up compared to other bargain vapes available today.
If this is your first dry herb vaporizer, check out our useful dry herb Vaporizer Buyers Guide to help you understand more about what you're getting into! Also if this is your first vaporizer be sure to check out our Vaporizer Buyers Guide.
Flowermate Aura Vaporizer Review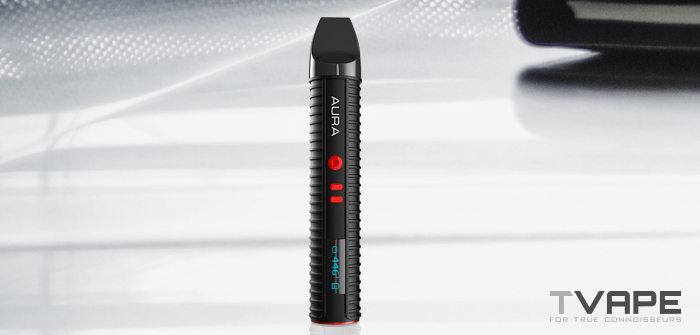 How it Works
As with most dry herb vaporizers, using the Flowermate Aura Vaporizer is pretty simple. Remove the mouthpiece, load the ceramic chamber with your herb, and power on the device.
Choosing your temperature is easy with the two appropriate buttons, and in about 30 seconds you're able to have your session! Since it's a conduction based unit, I like to let the herb heat soak for a few more seconds before having my first draw.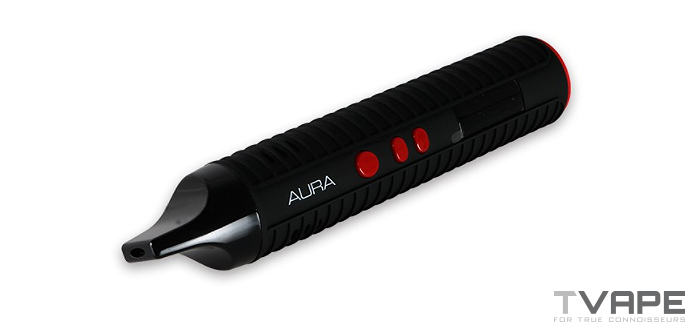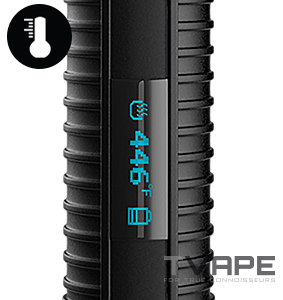 Temperature Flexibility
You're given a healthy temperature range to choose from, letting you choose anywhere between 104-446°F/40-230°C.
The OLED display allows you to adjust the temperature in small increments, giving you full control over your experience! You could also check out the Zeus Arc GT which has 3 temperature controls, allowing you to choose heating styles for your preference.

Vapor Quality
Using the standard ceramic chamber that Flowermate uses on most of their devices, you're given decent conduction-style vapor from it. The first few draws from the Aura are quite strong, however, the flavor tapers off quite quickly.
At higher temperatures, you get the standard 'toasted popcorn' flavor that's characteristic of most conduction vapes.
The Flowermate Aura Vaporizer is capable of doing waxes with the included concentrates pod, and it works. But it's really nothing spectacular, especially compared to a dedicated wax pen like the Utillian 5, but it'll do the job. I'd much prefer saving my concentrates for use with something that was made for it though.
The mouthpiece being plastic though doesn't give you as clean of a vapor path as something like glass does, and the draw resistance isn't anything great either. By today's standards though, I feel as though it doesn't stack up to other budget portables that use hybrid heating. For what it is though, it still does the trick!

Manufacturing Quality
Flowermate is known for highly reliable products, but the Flowermate Aura Vaporizer seems to deviate from that slightly. The plastic mouthpiece has become a notorious problem for many people – cracking and breaking constantly. Though Flowermate has been known to help people out who encounter this problem, it's still not exactly an issue you want to run into.
You're given a healthy accessories package with a cleaning brush, plenty of replacement screens, dry herb pod, concentrates pod, and a USB cable. I'm glad Flowermate sorts us out with the two pods, as they're definitely quite useful!
Aside from the mouthpiece problem, the Aura feels good to hold. The build of it reminds me of an industrial design that the Boundless CF or Crafty possesses. I wouldn't put it at the same quality as either though – understandable due to the cost.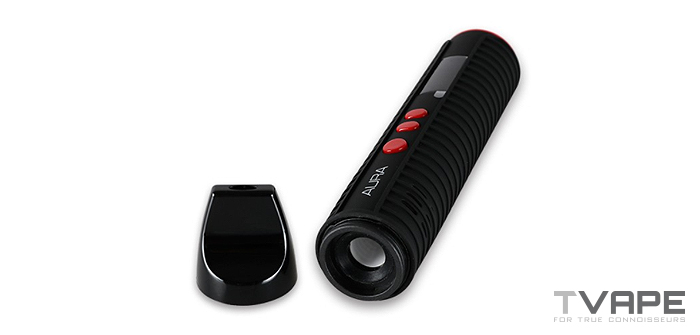 Battery Life
You're given a 2600mAh battery which can yield around 7-10 sessions per charge! That's fairly impressive for the price!
It charges using a conventional Micro USB cable, and in about 3-4 hours you'll go from flat until full. This is pretty average for most vaporizers, even ones more expensive! But if you prefer one with removable batteries, the Flowermate Slick vaporizer can be a good choice for you. 

Portability
At only around 6 inches tall, the Flowermate Aura Vaporizer is easy to stow away into any pocket or bag! You'll have no problem bringing it outside, and the rugged design brings comfort to the mind if you're someone who's particularly gentle with handling. There are smaller units like the Pax 3 which are even more portable, though you'll certainly be paying more for that!
The included dry herb pod makes it really convenient for having two sessions when out and about. Preload your chamber before heading out, and after your first session empty it out. Toss in a preloaded dry herb pod and then you're ready to go again. It's a lot quicker and easier than having to manually reload an empty chamber and I appreciate any pod system greatly for that reason.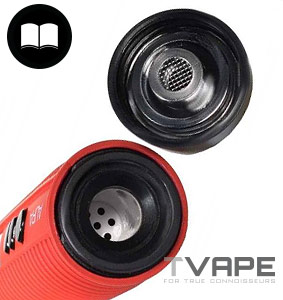 Ease of Use
Like all Flowermate products, using the Aura is really straightforward. This was meant to be a no-frills entry-level device, and it certainly does that well! A complete beginner could pick it up and get some good results with minimal coaching. There are no special draw methods or loading techniques that require fine attention – just gently pack down your herb and you're ready to go.
Cleaning is just as easy. Both the chamber and mouthpiece clean well with just a cotton swab soaked in isopropyl alcohol, and the included stainless steel pods clean best when submerged in some iso. You can also try checking out the LITL 1 which can hold up to 0.2 grams of herbs.

Discreetness
Compliments to the small size, the Aura is easy to conceal and looks like a typical e-juice vaporizer when in use. Though any smells might pique curiosity from some, you really won't raise much suspicion if someone saw you taking a hit from it.
If portability and discretion are things you really value, the Aura covers you well then! Then there's the Davinci Miqro(the name says it all), with its sleek and small design, you can easily put it on your jean's watch pocket.
Overall Experience
If you're looking at getting your first dry herb vaporizer, the Aura leaves a bit to be desired. If you're someone who has more than a couple of sessions a week, I'd highly recommend bumping your budget up a little more for something more significant, like the Zeus Arc GT, as you'll get much better vapor quality from it, and won't be tempted to upgrade for a while.
The Aura certainly isn't bad by any means, but the vapor quality isn't anything special. When it first released in 2016, it was average by those standards. Two years down the line, I can't help but feel like it's a bit below the norm. They can be found at quite a low price nowadays, so if you're really just looking for a device to pick up and use occasionally and not invest too much into, the Aura is a good bet. But for the price, the Utillian 420 may be a better budget buy.
If you have questions about our Flowermate Aura Vaporizer review or just want to let us know what you think, feel free to drop us a comment below! Also, don't forget to follow us on Facebook, Twitter or Instagram to keep up to date with all our contests, sales alerts, and other fun stuff! Thanks for reading and as always, keep vapin'!