A near-clone of The Core e-rig, the Smokeski packs in some pretty impressive features for the price requested. How does it stand up to other e-rigs like the Puffco Peak Pro? We'll find out of course in the Smokeski e-rig review!
Review: Smokeski e-rig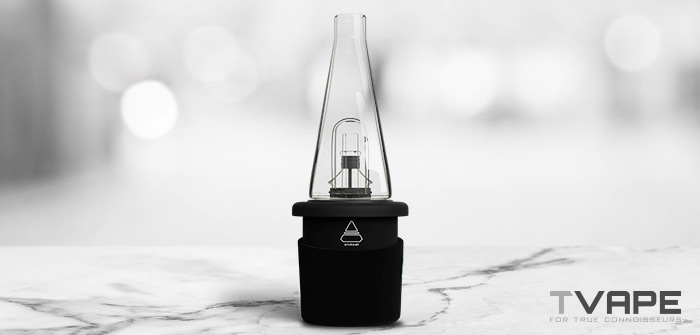 How it Works
Like any other e-rig on the market, you can either cold load or hot load the Smokeski. We certainly prefer cold loading with this and other e-rigs out there.
A hot hit requires you to heat up the atomizer before loading your material.
A cold hit requires you to load the material into the atomizer, and then heat it up.
When cold loading though, we highly recommend warming up the atomizer just a touch to help melt the wax off your tool and into the bowl. Otherwise, your sticky materials will just remain glued to your tool with conviction!
Going back to the beginning, make sure the bubbler is filled up with a little bit of water. Heat it up and away you go – inhale gently and apply the carb cap over the bowl to increase the hit density.
Temperature Flexibility
You're granted a total of four heat settings to play with. While the best e-rigs around now come with multiple heat settings that you can control, the Smokeski's temperature settings are fixed.
We're actually not quite sure as to what these settings are, but, from our experience, we'll say that they're quite well chosen. For all intents and purposes, we've found 4 settings to be plenty, though wax enthusiasts will certainly be better suited by something with complete temperature control like the Puffco Peak Pro.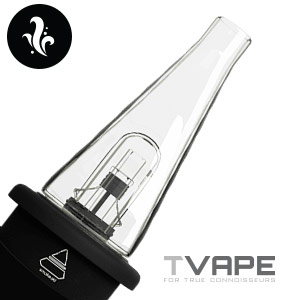 Vapor Quality
The real thing we care about – the vapor quality! Just how does it perform?
Well, in all honesty – it's pretty decent! This is largely due to the SiC (silicon carbide) atomizer which is sometimes preferred over quartz in the community. The result is smooth, the excellent flavor on the lower two settings, and rich, cloudy hits at a high temp.
We're glad to report that the vapor quality from the Smokeski alone competes very well with vaporizers in a much higher price bracket in terms of vapor quality. You do miss you on complete and total temperature control which docks off a point in the vapor quality aspect, though all in all, it's pretty okay.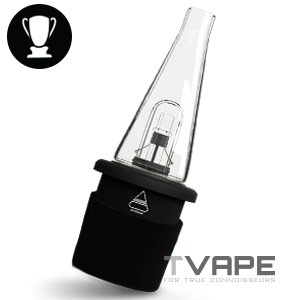 Manufacturing Quality
This is where the Smokeski e-rig loses some points. It's certainly not bad and feels like it'll stand the test of time, but compared to premium units it leaves a little to be desired.
However, included in the box is a hefty amount of accessories which is great for beginners! You'll get the device itself, the SiC bucket coil, a titanium bucket, carb cap, splash guard, charger, cleaning pads, swaps, replacement o-rings,  carrying case, two tools, and a few other small bits and pieces.
Though these aren't quite anything special, it's really nice to see these included – especially two tools! The titanium bucket we find is a great backup just in case your SiC atomizer is left to clean or even broken.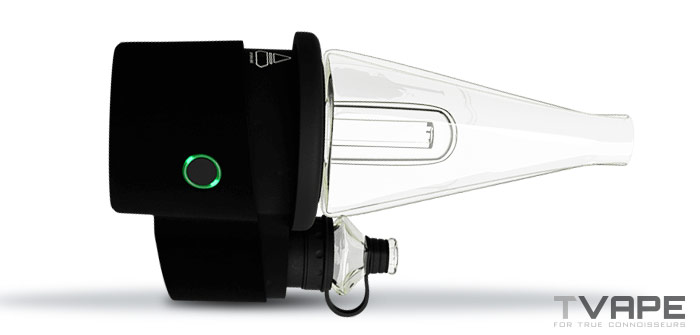 Battery Life
An area where we feel the Smokeski would've skimped out on but actually delivered is battery life! We've found it to be in line with other e-rigs and yield around 25-30 full draws before needing to be topped up.
They've also used USB-C which makes us happy. It takes approx 1.5-2 hours to top up from empty, which is average. Gone are the days of MicroUSB, slowly but surely!
This is in-line with what The Core e-rig provides with its 3,000mAh battery.

Portability
An average size compared to its peers, the Smokeski dab rig is about as portable as the others out there. Coming with its own little carrying case, you're able to bring it around as long as you have a bag or similar to toss it into.
We'd certainly recommend something like the G Pen Roam over the Smokeski or even Dr Dabber Boost Evo if you're looking for a portable e-rig to take on the go – it won't spill water and was designed for this purpose!

Ease of Use
After the first half dozen sessions, we're confident that you'll have practically mastered how to use the Smokeski. There is a slight learning curve at first if you've never used an e-rig before or a oil rig in general.
Cleaning is quite simple as each part comes out for easy cleaning. We'd recommend cleaning the atomizer with isopropyl alcohol and a cotton swap every few sessions and the bubbler whenever you please. Keeping the atomizer clean is crucial for the good performance and longevity of your device!

Discreetness
Like almost any e-rig out there (aside from the G Pen Roam), the Smokeski isn't at all what we'd consider being discreet. Though it won't smell anything like smoking, the shape and usage of it is obviously strange to many people and will generate a bit of attention.
If you're really set on a highly portable and discreet unit, check out our catalog of wax pen vaporizers instead!

Overall Experience
Overall Experience
The Smokeski is a fine e-rig and for the price is a decent deal. While we prefer the finesse and quality that premium units such as the Puffco Peak Pro and Focus V Carta provides, we're well satisfied with the Smokeski.
All in all, it's a great unit which hits the mark well in many areas! Though you won't find us reaching for it often over The Core or Peak Pro, we can see how it's a perfect unit for most wax enthusiasts.
If you have questions about our review or just want to let us know what you think, feel free to drop us a comment below! Also, don't forget to follow us on Facebook, Twitter, or Instagram to keep up to date with all our contests, sales alerts, and other fun stuff! Thanks for reading and as always, keep vapin'.