The VapeXhale Cloud EVO Vaporizer is a unique vape that is designed so that it can (and should) be used with water-pipes . Vape Exhale actually makes what they call HydraTubes, which are essentially water pipes designed specifically for this vaporizer that sit right on top of the heating chamber. This simple fact alone is usually enough to get everyone's attention, as this unit effortlessly combines two of the most popular consumption devices. Unfortunately the HydraTubes do not come standard with the unit, which starts out at a pretty hefty price tag alone. Today we'll be taking a look at the functionality of the unit to see whether the high price tag can be justified, either with or without the custom HydraTube.
Review: VapeXhale Vaporizer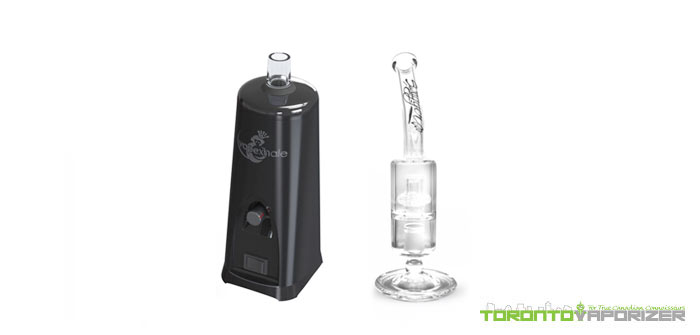 How it Works
Using the VapeXhale Cloud Evo Vaporizer is pretty straightforward. There is a power switch and a simple temperature dial that you just turn to get to the temperature you want (unfortunately there are no markings to indicate exact temps). Your herb is loaded into what Vape Exhale calls EZ load bowls. These bowls are pretty nice, as they are well made, hold a decent amount, and incorporate a hat screen as a lid that makes the bowl a self-enclosed capsule. There is also a nail that can be used for concentrates. A mouthpiece that is provided easily slides over a ground glass connector that is attached to the base of the unit, or you can upgrade to one of the HydraTubes which also slides over that same connector. If you already have your own water pipe, you can get adapters for those as well, but it won't be as convenient as the HydraTubes and you may need to MacGyver some components.
Vapor Quality
The vapor that the VapeXhale puts out even with its most basic components is actually very good across the board, whether you want to use dried herbs or concentrates. The draws are very milky and produce huge clouds even with just a little bit of herb used, meaning this unit is extremely efficient. There certainly isn't anything to complain about, other than the fact that you can achieve just as good (if not better) vapor with other units that are much cheaper, like the Plenty vaporizer. To really get the full benefit of the VapeXhale, you'd need to upgrade to a HydraTube. This will significantly increase vapor quality and performance by filtering the vapor through water, cooling it down, but again this comes at an additional cost.
Temperature Flexibility
The temperature flexibility of the Vape Exhale vaporizer is good, it's just not specific. We found that the device is very responsive to changes in the knob, and that you get a wide range of temperatures depending on how far you turn it. Finding that special level is a matter of repeated testing, but you should have no problem finding one that works for your needs no matter what they are. With that in mind, even on a lower setting, you're going to get visible vapor because of this unit's crazy efficiency of extracting all the essential oils from your herbs. If you're looking for a good temperature flexible vaporizer, then we would also recommend you to look at the Arizer Air 2 ranging from 122°F to 428°F.
Manufacturer Quality
The Vape Exhale is very well made and doesn't seem to have any design flaws. The biggest knock against it is that the base has a plastic exterior, but there are certainly worse things in the world. The blown glass is a nice touch, but you won't get much of it unless you spend the money to upgrade to a HydraTube. The overall design is nice, but we do prefer when manufactures give more precise temperature controls like those in the Utillian 722, or at least some indication of what temperature you are setting the vape to. As it is, you have to start with trial and error to find a temperature that agrees with you.
Ease of Use
Using the Vape Exhale Cloud EVO is just as easy as most stationary vapes. There really isn't much to do other than plug in the unit, flip a switch, turn a dial and load a bowl. Adding some type of temperature indicator would remove some minor inconvenience, because as it stands you have to just guess and make adjustments to find a level that you like, and we found that between 12 – 3 o' clock was good. While all units differ, and temperature indicators aren't always the most accurate, it's still nice to have some sort of base to work off of. As a final note, some people that try this complain that it is too difficult to get good deep draws because of the water filtration aspect which impacts airflow. So, if you have a small lung capacity, then you can do well with a portable vaporizer like the Mighty Vaporizer.
Reach
The reach for the Vape Exhale is decent. It comes with a fairly long power cord, but at the end of the day it is still a desktop/stationery vape so don't expect to move from room to room with this guy. This one is unique in the sense that it doesn't have either of the traditional whips and balloons, so you actually have to pass the whole base to use it. If you add a HydraTube on top, it can get a bit unwieldy and it's not the type of thing you want passing around a large group, especially when factoring in the expense. But because it is so efficient, you should have no problem having a few people get a couple great draws off it at a time. If you want to use this with one of your own water-pipes, then this is about as stationary of a device as you can get and we really do recommend you don't try passing it around to avoid unnecessary hassle and possible breakage. The Volcano Classic Vaporizer has an amazing build quality and has a really good "reach score" on our performance specs list, letting everyone have a good session together.
Options
There are a lot of options to consider with the VapeExhale. Obviously the number one thing you'd want to look at if considering purchasing this is the available Hydratubes. Just like water pipes, there are several different designs and styles, and even some third party solutions to consider. On top of the HydraTubes, there are water adapters, different colored heat shields and more. Be prepared to pay extra! A key selling point of this vape though is that it can be used with both dry herbs and concentrates very well! The Upgraded variant from Volcano comes the Volcano Hybrid Vaporizer, with it's unique features and multiple options and also including a larger bowl holding upto 1 grams of herb and has it's own unique app to be controlled from via Bluetooth.
Overall Experience
If you are going to get the VapeXhale then we highly suggest you also get a HydraTube. It just doesn't make sense otherwise. Even if you want to use it with your own glassware, there are plenty of more competitively priced options out there including the Arizer Extreme Q. Many people don't realize how easy it is to connect vaporizers (whether a portable, whip or bag) to water pipes, even if it takes some creativity with some models. It's worth looking into if you want to use it like this, as the alternatives to this vape can offer better vapor, lower prices, and more functionality by way of precise temperature controls. In fact, we'd fully recommend skipping the VapeExhale and investing in a moderately priced stationary that can be connected to the ZEUS Iceborn, to increase efficiency even more and get incredibly frosty clouds. When it comes down to it, this is still a pretty cool vaporizer. The vapor production and efficiency is excellent, the design is nice, and the parts are relatively high quality. The only big problem is that it is expensive when compared to the competition!
Warning: Not Compatible with ZEUS Iceborn
This vaporizer is not compatible with the ZEUS Iceborn, a revolutionary new vapor cooling system designed to produce cooler draws and bigger clouds when connected to your vaporizer. The ZEUS Iceborn adds an additional 2 points to the vapor quality score of compatible units, so we highly recommend considering a whip-compatible vaporizer to take advantage of this stellar ZEUS accessory item. All compatible vaporizers will have a compatibility notice.
If you have questions about this vape or just want to let us know what you think, feel free to drop us a comment below! Also, don't forget to follow us on Facebook, Twitter or Instagram to keep up to date with all our contests, sales alerts and other fun stuff! Thanks for reading and as always, keep vapin'! 😉
 PS: Check out our new Domain name and brand: Torontovaporizer.ca for Canada and TVape.com for the USA.