If you're looking for out of this world performance from a vape with an attractive design and price point, you need to check out the vape we're reviewing today, the SMOK Alien 220 TC kit. The Alien mod is capable of pumping out a full 220W of power off two 18650's, and the clouds it can generate are absolutely insane. The Baby Beast tank is also amazing, delivering large clouds, fantastic flavor, and no dry hits to speak of at all. Interested yet? You should be… Also, be sure to check our vape buyer's guides for important information to consider before making your first purchase.
Review: SMOK AL85 Baby Alien Kit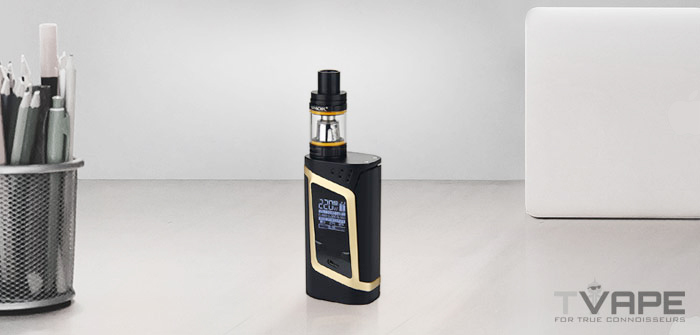 Manufacturing Quality
The manufacturing quality of this kit is incredible. When you stop to think about the fact that this can pump out 220w of power and compare that to where vapes were just a few years ago, it's almost hard to believe this is real. I really like how they did the screen too. It's big, easy to read, and has details on literally everything you could possibly want to know all in one glance. A lot of vapes make you choose what you want to see on the screen, this just shows you everything.
I also really like the side fire trigger. Instead of a button, the entire side of this is one big trigger that you click. This means you can squeeze your whole hand to activate it, which feels so much nicer when you are actually using it compared to clicking a small button. The last thing I'll say about the mod is that it looks great. There are many color combinations, and they're all slick.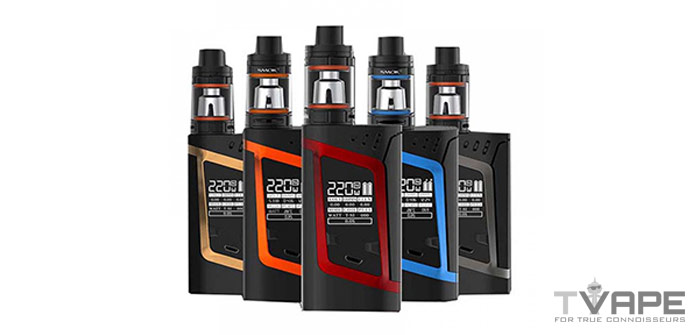 The Baby Beast tank is also very well made. It has a 22mm diameter and holds up to 3mL of juice. It is also top-filled and has adjustable airflow on the bottom. You get two coils in this kit, one V8 Baby-Q2 Core (0.4Ω dual coils) that is pre-installed and one V8 Baby-T8 Core (0.15Ω octuple coils). The first should be used around 60w for optimal performance, while the second can be used between 70 and 80w. Users who are interested in 510 thread cartridges for oil often prefer the CCELL Palm.

Flavor Quality
The flavor you get combining the Alien with the Baby Beast is great, and so are the clouds. The trick is taking the time to experiment with all the different options you have. The mod offers a ton of power flexibility, and the tank itself comes with multiple coils.
There are also additional coils that you can buy separately that will work with the Baby Beast, and don't forget that you can use the mod with almost any tank. When I put a 25mm tank on this, there is just the smallest bit of overhang though, which may or may not bother you. If you are someone who also uses 510 oil cartridges and other vapers have reported Yocan Uni Pro is a good place to start.  

Power Flexibility
The power flexibility is impressive to say the least. For starters, the wattage output goes up to 220w. I know I've already mentioned this, but it is one of the Alien's most appealing features so I felt it was worth mentioning again.220w doesn't make it the highest powered mod out there, but it makes it powerful enough for 99% of vapers. The resistance range in wattage mode is 0.1Ω-3Ω. In temperature control mode, the range is 0.06Ω-2Ω. Speaking of TC, the temp range is the standard 200F-600F.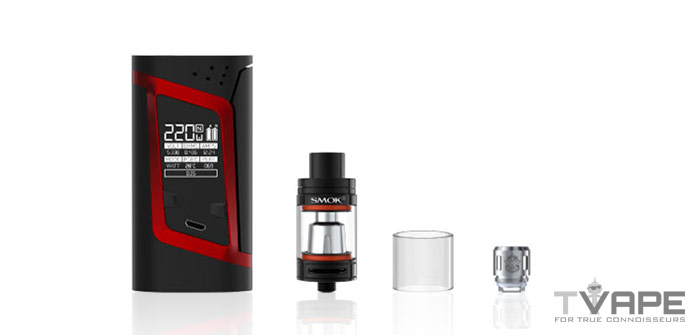 There are a lot of settings and options to play with on the Alien. They won't be hard to figure out if you've ever used a mod before, but they could be confusing if you are new.
I personally think it's worth learning because you unlock a ton of functionality, but if you don't feel like learning about wattage, voltage, amps, ohms, and temperature control, you may be better off with a more basic device. 

Portability
Portability is about as good as you are ever going to get out of a box mod with this many features. This thing is extremely tiny, but still manages to offer removable 18650 battery power.
This is important because it means you can make sure your batteries stay fresh over time, and you can also keep multiple on hand to extend the time you can go without charging.
On top of all this, the 3ml tank is a good capacity for the size, and the top-fill design means it's easy to quickly refill while on the go.

Overall Experience
The Smok Alien 220w TC kit is an incredible value for the money.
If you want a vape that can do everything and do it well, this is the kit to buy. The performance is excellent, from the power flexibility to the vapor output. The clouds that you'll be blowing with this can fill a room (sometimes literally), but the flavor remains pure and enjoyable.
Based on the opinions of other people I've talked to about the Alien, I don't think this conclusion will be very controversial. Everyone seems to like this thing. Its one of the most popular vapes available right now. We'd love to know what you think as well though, so please comment below and let us know if you like the Alien, and if not, what you think is the better buy…
Those of you who may think this is too much vape for you but also want something with a decent wattage range and great tasting vapor, be sure to check out the Coolfire IV 100W.  And for those who want a vape that is more portable we highly recommend the Vaporesso Target Mini.
We hope you enjoyed reading our Smok AL85 review! We would love to hear from you! Feel free to leave a comment in the section below, you can do so anonymously 😉 Don't forget to follow us on
Facebook
,
Twitter
or
Instagram
for contests, sales alerts and other fun stuff! Thanks for reading and as always, keep vapin'! 😉