The Davinci Ascent has gone through extensive development, boasting some of the most innovative features we've seen in a portable vaporizer up to its launch date in 2013. With glass-on-glass vaporization, a built-in motion sensor, programmable vape cycles and dual functionality for vaping oils and botanicals, let's just say this vaporizer definitely lives up to its expectations. Here's a rundown of what we thought after our Davinci Ascent Review:
Davinci Ascent Evaluation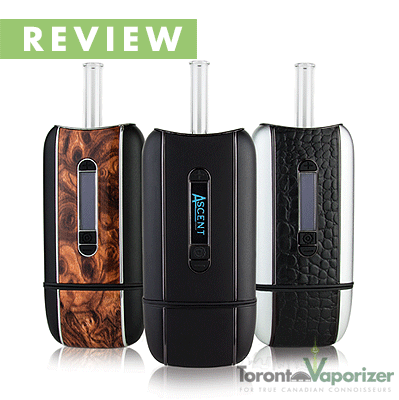 How it Works
The Davinci Ascent is very simple to use. The power button is next to the glass drawing stem and simply by pressing it you activate the digital display. The temperature is adjusted with + and – buttons. The screen has the temperature setting at the top and the battery indicator at the bottom. When the unit is heating the middle of the screen will show a thermometer, which will change to a bowl with vapor rising from it when the chamber is fully heated. It also has some awesome new features like: a built-in motion sensor timer you can program for auto-shutoff, which we hardly ever see in portable vaporizers, and a personal vape cycle display, which allows you to preset three different temperature settings (more about that below). We thought these extra features were super cool and definitely useful. You can access these features through the Settings button right under the display.
Temperature Settings
The Ascent can heat up to a maximum of 221 °C having temperature range just 1 degree lower than its sibling the DaVinci IQ, giving you a wide range of precise temperatures for vaporization. This temperature is quite high for a portable, but is a necessary element to achieving not only denser vapour, but also to have the capacity of vaporizing oils. The OLED display allows you to set the temperature to the exact degree and the unit only takes about 1 minute to heat up. Saving the best for last: this unit has a fantastic programable vape cycle feature, allowing you to preset three vaporizing temperatures for the ultimate vaping experience. This allows you to get the most out of your batch and also lets you experience a range of vapour densities and flavors. Of course, the best temperatures to select for your presets will be based on your personal preference, for example you may prefer vapour tasting to vapour stepping. To learn more, check out the best temperature settings for vaporizing blog post.

Vapour Quality
It's widely known that glass provides the finest vapor quality around. The Ascent not only has a completely glass air path, but also a glass lined heating chamber unlike the Arize Air 2 that too has glass air path but the chamber is of steel instead. This means no outside flavors will affect your vapor. The temperature can be adjusted to the nearest degree, so you have total control over the density and flavor of your vapor. The result is that we were absolutely blown away by the vapor from this unit. It's dense and flavourful. We hardly ever see vapor like this from portable units. This is definitely a winning point for the Ascent.






Manufacturing Quality
DaVinci took a while to get the Ascent onto the market. After some time of careful monitoring of warranty returns, we find the unit to have a relatively high defect rate compared to other vapes. Of course the Ascent is a more complex unit that packs lots of functionality and even some programmability. Of course there is a higher chance of things breaking the more components there are, but still we would like to see the next version and our next Davinci Ascent Review to find improvements on this front. This unit has lots of new ideas, and they seem to be very well implemented. The internal mouthpiece is entirely removable, so it's easy to clean as well. In terms of design, this is definitely one of the best looking vaporizers we've seen. We did find that the bottom can grow hot during use, but the unit is always cool enough above the heating chamber, making it quite comfortable to hold. The components overall seem to be of a quality that justifies the price.
Users looking for a unit that has a lower chance of breaking and is less complex to operate and handle usually tend to prefer devices like the Zeus Arc that is strong, simple, and produce smooth vapors.


Battery Life
Apart from its sleek design and smartphone size, the other more notable features of this unit that makes it so portable is the Ascent's battery life. With two heavy-duty lithium ion batteries, you get 120 minutes of continuous use with your vape at 190 degrees Celsius. This is currently the longest lasting battery seen in a portable unit on the market today alongside the Arizer Solo 2 which has 3 hours battery time! To save on the battery, you can also set a timer for the auto-shutoff with the settings display. In terms of the  manufacturer's warranty, DaVinci offers two years on the unit and 90 days on the battery.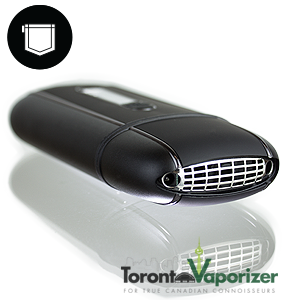 Portability
The Ascent is extremely portable because of its sleek design unlike some of the bulky units like the Mighty. With the mouthpiece inside it's only 4.5″ tall, 2.2″ long and 1″wide. It is a tad heavy, weighing a little under 200 grams, but this is something easily overlooked when you think of the battery power you gain in return. In terms of design, DaVinci thought-through the placement of each component. The power button is at the top of the unit next to the mouthpiece, which is out of the way so that it is not accidentally turned on when shuffled around in a pocket or purse. The heating chamber swivels out for easy access and loading, and is designed to stay shut once closed. One of the things we were worried about for portability was the fragile glass air path and drawing stem, as this unit is a bit slippery and therefore, easy to drop. But in a drop-test it passed with flying colors. The unit was fully functional and more importantly, the internal glass air pathway and the drawing stem  remained intact. This is awesome news for those connoisseurs with butter-fingers.

Ease of Use
The Ascent's controls are very simple and intuitive similar to the Utillian 722 but with more options. All the settings needed for vaporization involve only the up and down buttons, and show up clearly on the screen. The Settings button provides more options without requiring you to think about them every time you vaporize. It's also very easy to clean since every part that is in contact with vapor is removable.

Discreetness
Because of the small size and sleek design, the Ascent really doesn't attract attention. It's almost entirely self-contained, with no protruding components other than the glass drawing stem. However, for more discreet vaping the Ascent comes with an alternate vaporizing option: direct from the mouth opening. This means that you can retract the glass mouthpiece completely for very stealthy vaping. At a distance, the Ascent could also be mistaken for a smartphone, making it virtually undetectable as a vaporizer when carried in-hand. We did find the Ascent to hold on to odors longer than expected after vaping, but this was only slightly noticeable. Users who prefer to remain low key in the public usually tend to prefer devices like the Pax 3 that has a cooling chamber to minimize the smell.
Overall Experience
We were impressed with this vaporizer. It did very well in our overall ranking of the best portable vaporizers. The vapor quality was great, not only because of the taste (which comes with using glass-on-glass), but also because of the density. This vaporizer definitely produces the thickest vapour we've seen in a portable yet. The unit is also easy to operate and maintain, and amazingly flexible. DaVinci has yet again shown that they really keep their end-user in mind every step of the way, making sure their products meet every connoisseur's needs. The Ascent really is the embodiment of style, innovation and purity. With customizable settings, extreme portability, great vapour quality and unique shells to match both a connoisseur's personality and lifestyle, DaVinici has paved new ground in the world of vaporizing.

Now if you're looking to get the best vaporization experience possible with the DaVinci Ascent we'd like to recommend pairing your unit with the new vapor cooling device from ZEUSArsenal, the ZEUS Iceborn. This revolutionary device actually increases the vapor quality of your Ascent by 2 points, dramatically cooling it down for smooth frosty draws. It's also much more efficient than other filtration devices that use water, so you can get even bigger vapor clouds! Take a look!
If you're interested in buying this new vape today.If you liked reading this Davinci Ascent Review or learned something new, consider using the sharing buttons below to let your fellow connoisseurs know about this exciting new vape! And of course your questions and comments are welcome in the comment section below.
Take care for now and as always, keep vapin'!