Airvape has always brought some interesting units to the table, whether it be the Airvape X or the Airvape Om. The new Legacy is a keen competitor in the mid-high price and performance range. Featuring a slew of unique and appreciated features, check out what we have to say about it in our Airvape Legacy review!
If this is your first dry herb vaporizer, check out our nifty little dry herb Vaporizer Buyers Guide to help you get started with dry herb vapes!
Review: Airvape Legacy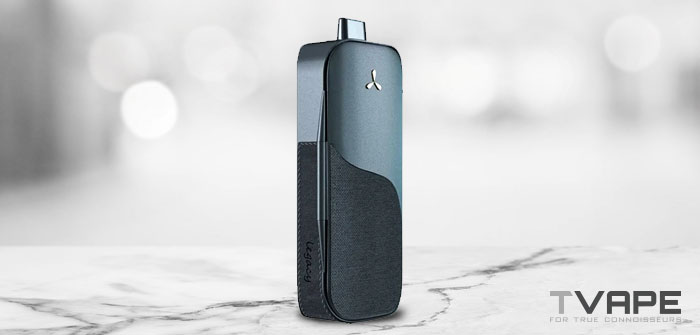 How it Works
The Legacy requires a few steps to use properly. Initially, you'll want to grind your herb and pack it in nice and fluffy. Don't grind too fine and don't pack it in too hard. Some people enjoy tossing a screen on top of the bowl the help with performance.
After filling the bowl up, you can turn the unit on with 3 clicks of the power button. From there you can of course go right into the session and adjust your temperature with the two respective buttons.
The heat-up time is rather quick and after ~15-30 seconds you should be good to go. Draw gently and steadily – ripping like a vacuum doesn't quite to work as well!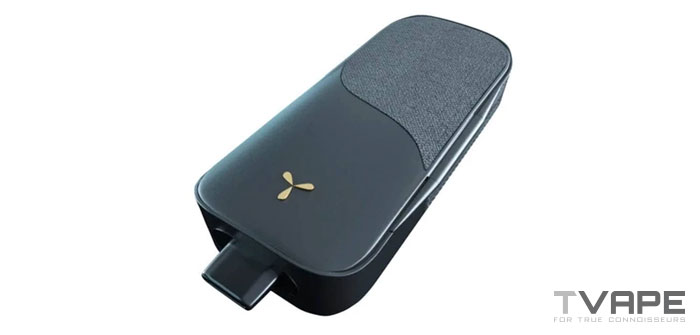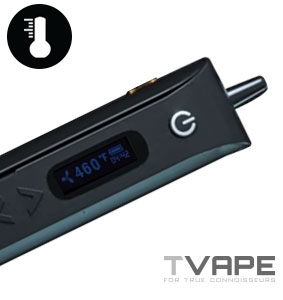 Temperature Flexibility
The Legacy has a fairly wide temperature range to work with. With a range of 93°C – 226°C (200°F to 440°F), you're able to even vape alternative herbs such as sage, damiana, and chamomile without worry.
The highest-end is hot enough to effectively deal with concentrates – albeit not quite as well as a dedicated wax pen like the Utillian 5. Some users have even combusted with dry by mistake and while we haven't had that happen to us personally, we figure we would let you know that may be a possibility.
All being said, the Airvape Legacy has a nice temperature range to deal with and on-board controls are always very appreciated.

Vapor Quality
The real spot of attention – how is the vapor quality on the Airvape Legacy?
Well, it's excellent! That is if you are able to consistently get those hits. While it's not difficult to use and learn, there is a slight learning curve compared to something like the Storz & Bickel Crafty+.
The glass vapor path and ceramic mouthpiece do a great job at cooling out that vapor without impacting the flavor at all. You get an excellent terpene profile and terrific taste as a result. Though we still give the victory in the flavor category to the Firefly 2+, the Airvape Legacy comes extremely close and in other aspects, the Legacy beats it handily.
The vapor density is also great and while not as super dense as a high-temperature DynaVap hit, it's more than satisfying.
All in all, the vapor quality on the Airvape Legacy is excellent, though you will notice that you need a bit of technique and skill to get those hits off every time.

Manufacturing Quality
The team at Apollo/Airvape is very good at designing a product, and the Airvape Legacy is quite the unit. Covered in (vegan) leather and hemp as well as some metal, it feels and looks very premium. Chic is a good word to describe it, and the engineering going on underneath the chassis is also quite impressive.
USB-C and wireless charging, a built-in stir stick, readily removable vapor path, haptic (vibration) feedback, gold-plated chamber – what more could you want? Okay, there's no smartphone app, but we prefer onboard controls anyways and the vast majority of people do too (especially after Apple banned all vaping apps).
Though long term reliability and longevity is yet to be known, we have high hopes considering the track record of the Airvape team. We do worry about the hemp textile coating though as people have noticed fraying at the bottom.
Battery Life
Airvape knocked it out of the park with this one. Removable 18650 battery with USB-C charging and wireless charging? It really doesn't get any better than this and from recent memory, the Legacy is the only unit out there right now which has a removable 18650 cell and USB-C input.
Alongside that, you'll average ~8 bowls per charge which is solid. Of course, you can swap in a fresh battery within seconds and be back to full again. We love removable batteries!

Portability
It's a bit bigger than initially thought. Somewhere around the size of an ice cream sandwich but a little wider (interesting metric, I know) – the Airvape Legacy is definitely portable but not the most pocket-able.
If you wear pants or tops with deep pockets this won't be a concern, but the unit itself is a little wider than most and does have some weight to it.
It's not as portable as something like the G Pen Dash, but it surely doesn't attempt to be. In fact, it's one of the most portable high-power vapes out there. Keep that in mind if you're interested in buying the vape!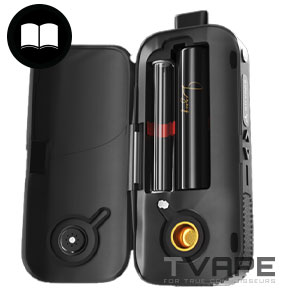 Ease of Use
We wouldn't quite say the Airvape Legacy is super easy to use. There are some steps involved in learning how to pack and hit it, and while it's not as convoluted as the Ghost MV1 or Firefly series, it's not exactly the best beginners vape.
Sharing with friends and such is a possibility but you may need to instruct them on how to hit it properly. This gets tedious and rather old fast though.
Cleaning is a breeze, and after each session just brush down the bowl area. The built-in stir tool is a joy to have for that mid-session stir. The glass vapor path and mouthpiece are removable and can be soaked in isopropyl alcohol to clear them of all grime and dirt without hassle.

Discreetness
Elegant and interesting, the Legacy appears mostly like a power bank if the mouthpiece is removed. While you'll probably leave it on there anyway, it's nice to have something unassuming looking.
The Legacy does create a little bit of smell which lingers slightly, however far below the average compared to other vaporizers. If the scent is a factor, keep that in mind!
Popping out for a quick session is easy as the chamber heats up rather fast. While it doesn't look like a regular e-juice vape, it doesn't scream 'stoner!' either. It's fairly discreet but not the stealthiest out there.
Overall Experience
We're very interested by the Legacy! It feels and looks refined, it's a clear step ahead of other units in terms of design, and while it definitely borrows some elements from the Firefly, it is more user friendly with its slew of features.
USB-C and a removable 18650? 2021 has gifted us with one thing at least! The vapor quality is good and while you have to put a little bit of effort into getting the best results, like the Firefly 2+, it's not that bad.
It's a very worthy competitor and challenger to the Utillian 722 and Crafty+, but the learning curve does make it the hardest use. Price point is also on the high end for the device. It's hard to pick a favorite between the three as they all offer different experiences and have their own advantages. All we know that the Airvape Legacy is a decent vaporizer!
If you have questions about our Airvape Legacy review or just want to let us know what you think, feel free to drop us a comment below! Also, don't forget to follow us on Facebook, Twitter, or Instagram to keep up to date with all our contests, sales alerts, and other fun stuff! Thanks for reading and as always, keep vapin'!