E-rigs are getting hot now and we've seen many new releases come out over the last year. Fresh out the factory, it promises a 4200mAh battery, the ability to use dry herb, and claims to have 'the most powerful dual-use vaporizer ever designed'. We'll cover all that in our VapeDynamics DIP review.
Find out about other e-rigs and wax pen vapes on our wax vape reviews page to find the right device for you!
Review: VapeDynamics DIP E-Rig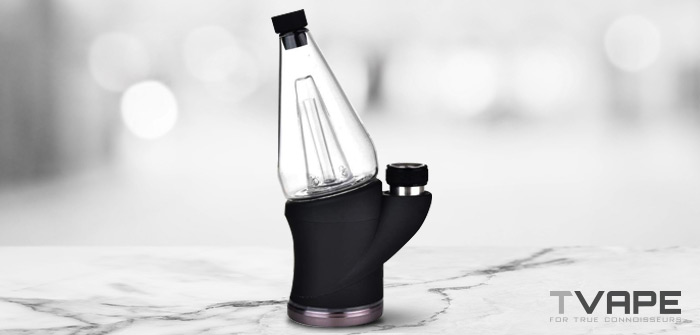 How it Works
Of course, you'll want to fill the bubbler up and we found the perfect amount to be just slightly above the visible bubbler holes.
Akin to other e-rigs out there, you can either cold load or hot load your dab. We'd recommend pulsing the power a couple of times to warm the atomizer up as this will help to let your wax melt in.
From there just heat it up, cover the opening with the carb cap, and take your hits. After a few runs, you'll have figured out how to use the e-rig proficiently.
To use the dry herb atomizer (sold separately) you'll want to fill it up with finely ground herb all the way. Pack it in a little bit and set the unit to dry herb mode. Don't forget this, else wise you'll combust your flower and enjoy a lengthy cleaning process!
With the dry herb atomizer, you'll also want to cover the top with the carb cap and inhale slowly. For thicker vapor just increase the temperature and wait longer between hits. We'd recommend stirring after 5 hits or so.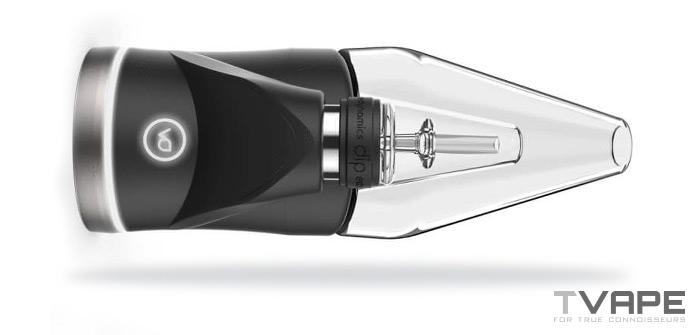 Temperature Flexibility
4 settings in concentrates mode and 4 settings in dry herb mode, you technically have 8 settings to play with. They are as follows:
Extract mode: 450°F – 500°F – 550°F – 600°F (or 232, 260, 287, and 315°C)
Dry Herb mode: 390°F – 410°F – 430°F – 450°F (199, 210, 221, and 232°C)
While 4 settings don't seem like much, they're well-chosen and certainly offers a good variety. If you're fond of complete temperature control, then look into a unit like the Puffco Peak Pro.
For what it is, it works great and while we absolutely prefer full temperature control, we're not miffed by a lack thereof and don't find it impedes the performance of the unit much.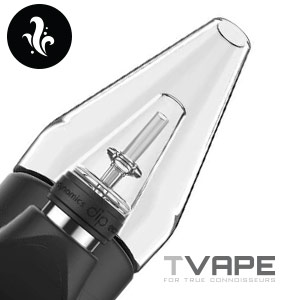 Vapor Quality
This is where we put to test their bold claim of "The most powerful dual-use vaporizer ever created". Does the VapeDynamics DIP satisfy?
Well, it hits hard and works well, but we can't consider it the most powerful or the best vaporizer ever created. Any e-rig out there now can get giant clouds and perform like wild, but can many offer great flavor and simple maintenance alongside that?
A 316 stainless steel atomizer is used for wax which delivers powerful hits, though doesn't quite have to prestigious properties which quartz or SiC atomizers do.
For dry herb, the DIP uses a standard ceramic atomizer which certainly works but delivers a typical conduction vapor profile and nothing we'd quite consider 'connoisseur' grade.
They both can deliver heavy clouds and hits which you'll feel, but not quite with the finesse or flavor than different e-rigs or a dedicated dry herb vaporizer can achieve.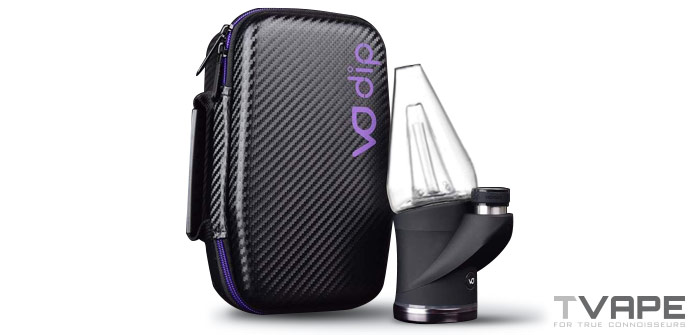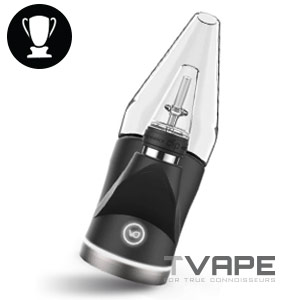 Manufacturing Quality
VapeDynamics isn't a household name in the industry like Puffco or Dr. Dabber enjoys. Still, that doesn't mean that the build quality can't be there!
Truthfully, the build quality is pretty fair. The silicone & plastic build on the body doesn't quite feel top-shelf premium, though the bubbler and included accessories are fairly good. Of course, it doesn't fetch the same premium price tag as others so we can't knock it for that.
Battery Life
This is really where the device shows its strengths. A gigantic 4200mAh battery is the biggest we've found on an e-rig before and allows for countless sessions before the need to recharge. 
USB-C is the method it hires and we're glad to see it make an entry. Taking aprox. 4 hours to top up from empty, it takes a while to top up but of course that's due to the very large capacity.
If you're after a long-lasting unit which you don't need to worry about recharging, then this is the one for you and the strongest aspect of this vape.

Portability
Generally, e-rigs aren't exactly what we consider to be portable devices (aside from the G Pen Roam).
The VapeDynamics DIP doesn't break that norm and while the carrying case will allow for easy and safe transport, there's no way you want to walk around while carrying it in your pocket. It's the kind of unit you'll want to sit down to use it.

Ease of Use
There's not too much that can go wrong and as long as you align the bubbler intake properly and keep the atomizer maintained, you won't see much in the way of issues.
Teardown for cleaning is fairly easy, however, there is that zone between the atomizer and bubbler which is a real pain to deep clean.
To clean the glass and atomizer, simply use some isopropyl alcohol or dedicated bong/glass cleaner. This will make quick work of any build-up and grime. Just please make sure to clean any e-rig frequently as a mess will develop rather fast.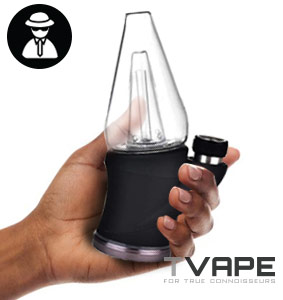 Discreetness
Though it's matte black and not all too flashy, e-rigs are in no way discreet and if you're taking a hit out of one while on a park bench, people will certainly notice. Not that they might care much, but you may catch a few odd glimpses and looks.
Again, the only true portable and discreet e-rig out there so far is the G Pen Roam so we'd recommend that or a dedicated wax pen like the Utillian 5 if you want stealthy dabs.

All in all we find it's a good middle ground. If you're a frequent concentrates user and also interested in a dry herb vaporizer, it's a fair unit to consider without going broke.
However, if you're after the best of the best e-rigs or the best value out there, you may be better suited by something like The Core or much beloved Puffco Peak.
Regardless, it's a fair unit and we certainly see it as a good pick up. We hope this review of the VapeDynamics DIP helped you out and if you've got any questions we'll be glad to answer.
If you have questions about our VapeDynamics DIP Review or just want to let us know what you think, feel free to drop us a comment below! Also, don't forget to follow us on Facebook, Twitter or Instagram to keep up to date with all our contests, sales alerts and other fun stuff! Thanks for reading and as always, keep vapin'