If you've ever tried making rosin the old-fashioned way with a hair straightener and parchment paper, then you'll know that trying to press a large quantity of herb is a painstaking process. Enter the Rosinbomb M50! A small but pricey plug and play setup that lets you get quality results in no time at all. Almost entirely noiseless, the M50's fully electric, requiring no manual pumping or loud air compressors to operate. Whether it's for personal or business use, you're sorted out with a simple, streamlined rosin press that'll deliver quality results at a moments notice. There's plenty of compact rosin presses on the market nowadays – how does the Rosinbomb M50 stack up compared to the rest?
If you are looking for the best wax pen to use with your concentrates be sure to check to check out our Wax Pen Ranking to find the right one for you.
Review: Rosinbomb M50


How it Works
Operating the Rosinbomb M50's a pretty simple process. Power on the unit and allow the plates to heat up for ~10 minutes. Adjust your temperature according to the end product you want; higher temperatures will yield more, yet lower quality end product. The opposite is true for lower temperatures. While the plates heat up, now's a good time to load your filter bags with your dry herb!
The user guide suggests using around 14 grams of material, but for the highest yields and optimal extraction, many people report that using 7 grams is the sweet spot. Line the plates with an acceptable parchment paper, center the bag of herb and hold the 'PRESS' button.
Rosin should slowly seep out and after around 2 minutes it should be mostly extracted at this point. Hit the 'RELEASE' button, power off the device, and let the rosin cool slightly before collecting. Once you get the hang of things, it should only be around 15-20 minutes from start to finish.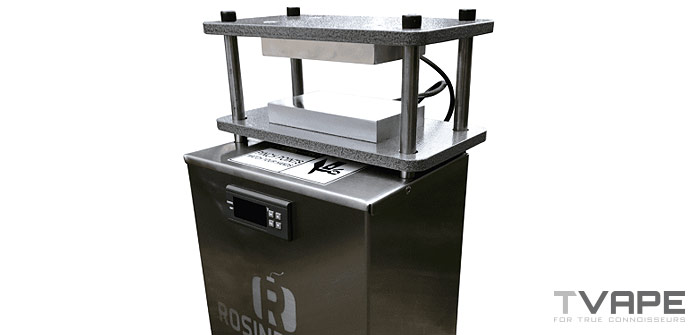 Manufacturing Quality
All the components feel relatively well made, though not entirely the cream of the crop – something that you'd expect with such a hefty price tag! The manufacturer though does include a 1-year warranty on electrical parts and 5-year warranty on structural components which is reassuring.
There is something to be said about the company itself though. A notable amount of users experienced difficulties when contacting support for service, and even one person reported having the unit beginning to press without hitting the button – nearly taking off a finger! That is a HUGE safety hazard and something to really keep in mind.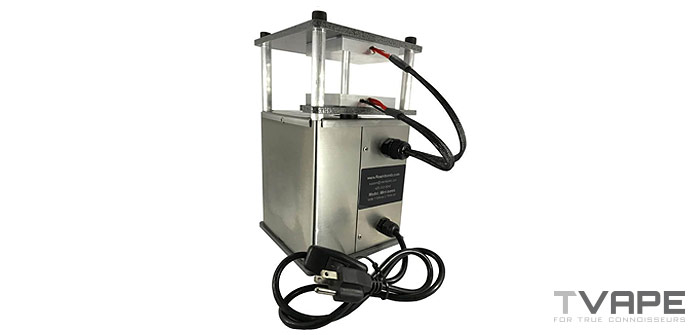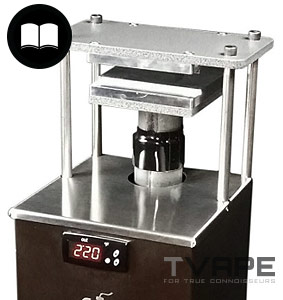 Ease of Use
Using the  Rosinbomb M50's an incredibly simple experience. No manual pumping, no air compressors, or complicated setup at all. Nothing about it is complicated and any medical patients with mobility issues won't have any problems at all. If you're looking to make concentrates in the easiest, quickest fashion, you really won't have to look much further!
Clean up is an extremely simple process. Once the unit is properly cooled, simply clean both plates with an alcohol wipe to remove any lingering residue.

Performance
You certainly get good, thorough extraction and quality results with it! 5 tons of pressure is definitely enough to squeeze most of the rosin from your plants, and especially considering the size, it does very well!
It should be noted though that other units in this price bracket do have a stronger press. There's no doubt that you can achieve similar or better results from less expensive units, though those might either require manual pumping, an air compressor, or get pretty large!
That's not to say the end product isn't quality! You'll still get very high-quality rosin with good efficiency. It won't do quite as well as larger, stronger presses when it comes to larger loads, and if you're looking to press large quantities, you'd be much better off with something else.

Rosinbomb M50
Overall Experience
For the size of the unit, the ease of use and generated results, the Rosinbomb M50 isn't a bad buy. But I can't help but feel like you do overpay with the M50. Unless the form factor and convenience are major selling points for you, it's best to look elsewhere if you aim to get the best results possible or want to save so cash.
For what it is though, the M50 performs well with little room for user error. You'll be able to get a nice chunk of quality rosin in under 30 minutes, all with a device that weighs about as much as a microwave.
Once again be sure to check out our Wax Pen Ranking to find the best wax pen to use with your concentrates!
If you have questions about our Rosinbomb M50 review or just want to let us know what you think, feel free to drop us a comment below! Also, don't forget to follow us on Facebook, Twitter or Instagram to keep up to date with all our contests, sales alerts and other fun stuff! Thanks for reading and as always, keep vapin'!