The Mota pot is a budget-friendly budder maker that'll turn any convoluted infusion process into a smooth, seamless experience – or so they say! If you've ever tried making edibles by hand with nothing but cheesecloth and a cooking pot, then you'll know how frustrating it can be to get a high-quality end product. Coming in at only $49USD, the Mota Pot undercuts competing products handily while promising great results. Let's see how it performs, and if it's worth the price they're looking for!
Review: Mota Pot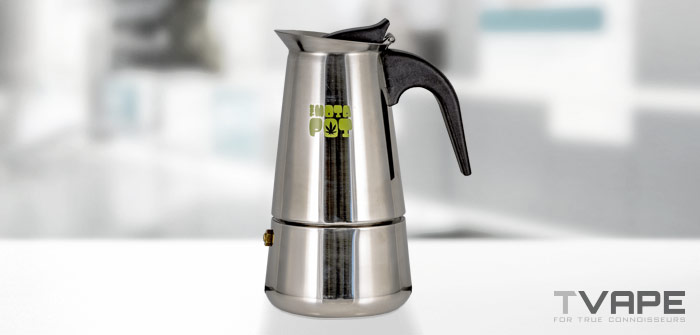 How it Works
The Mota Pot is a very straightforward device to use. First, unscrewing the bottom reveals the butter chamber. Underneath the removable filter is where you'd put roughly one stick of butter and a quarter cup of water.
Next, you'll be replacing the screen before adding your decarboxylated herb on top. Reattaching the base to the rest of the unit seals the deal and you're ready to start cooking!
After roughly 10 minutes over medium-low temperature on a stovetop, the budder should be ready to go, and simply pouring it out into a glass bowl will do the trick! At this point you can either skim the water from the butter once they separate fully, or allow the concoction to cool in a fridge until the butter becomes solid, pouring the excess water out easily.
It's an extremely simple process which will leave you with quality butter in not much time at all.

Manufacturing Quality
This thing isn't as fancy as other oil infusers we've seen like the Levo Oil Infuser. It's really just a stainless steel espresso pot, just designed for herbs instead! With so few parts and pieces, there's really not much to say. The build quality is nice, all the components feel sturdy and overall it feels good to handle.
The glossy finish is prone to fingerprints and scratches, however, so it won't be looking completely spotless for long.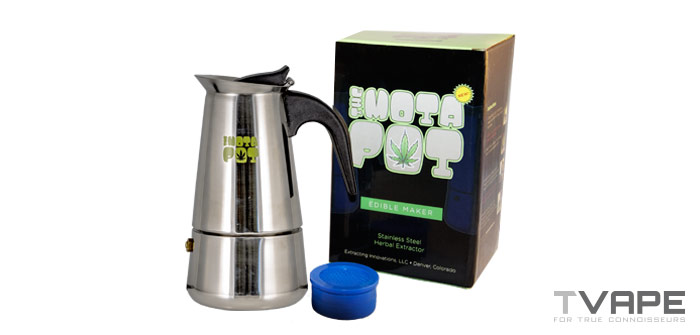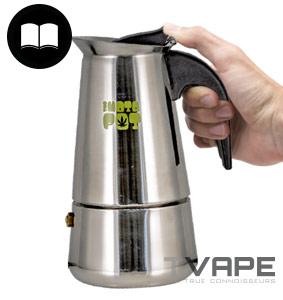 Ease of Use
With how easy it is to use, there is an important factor to keep in mind – decarboxylation.
The Mota Pot will not decarb your material, and so you'll still need to do so with an oven beforehand. That step in itself takes a chunk of time and is actually more difficult than using the Mota Pot itself.
However, there are plenty of guides available online that'll help you easily decarboxylate your herb, as it's quite a simple process really.
Aside from that, the Mota Pot is dead simple to use and as soon you've used it once, you've used it a thousand times. Their two minute instructional video really shows you how simple it is, and I have confidence a young child could operate it (not saying one should)!
Cleaning the Mota Pot is best done right away, and some soap should do the trick. If the smell doesn't seem to go away, thoroughly run ¼ cup of isopropyl alcohol through it, getting all the butter and bud to dissolve and wash away like that. 

Performance
Compared to making budder the old fashioned way, the Mota Pot is a breeze. You can definitely get some quality, potent edibles out of it, and it'll satisfy most of your needs. With that being said, it's not quite as efficient as other solutions, part due to the short cooking time.
Holding around 4-5 grams of ground up herb in the chamber, you can expect around 70-80% extraction. Assuming herb with a potency of 15% and with 5 grams being used, you can expect ~560mg of the actives ingredients to be extracted.
This is a very large amount, with a 5-10mg edible being the recommended dose for occasional users. 
Overall Experience
Hands down, the Mota Pot works much better than doing it all by hand, and quickly too! If you're someone who consumes edibles frequently, I'd perhaps recommend spending the extra coin and going for something else like the MagicalButter.
If you're a casual consumer who wants to make butter for the occasional brownies batch without a headache, then the Mota Pot would be a solid choice. Personally, I'm not too opposed to doing things the old-fashioned way, but I'd be lying if I didn't say the Mota Pot made things much easier.
If you have questions about our Mota Pot review or just want to let us know what you think, feel free to drop us a comment below! Also, don't forget to follow us on Facebook, Twitter or Instagram to keep up to date with all our contests, sales alerts and other fun stuff! Thanks for reading and as always, keep vapin'!