We were both thoroughly impressed yet underwhelmed the by original Cloudious9 Hydrology9 in our review. With some serious engineering and innovation brought to the table with their first device, we were keen to hear about a new release, teased as the Atomic 9. Now fully launched, we've given it our test and see how it performs. Check out our Cloudious9 Atomic9 review here for more info!
Review: Cloudious9 Atomic9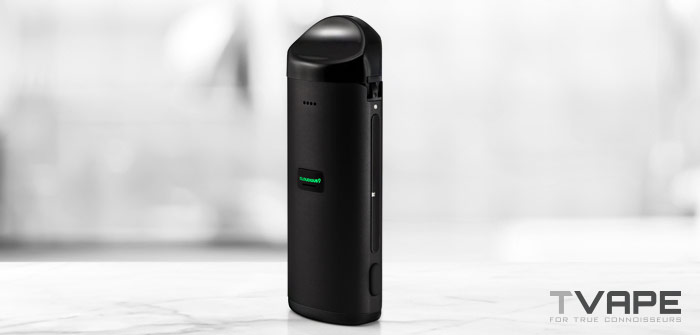 How it Works
The Atomic9 is a fairly simple and straightforward device to use. Gently pack the oven with some ground herb before turning the device on with 3 clicks of the only button.
Hold down the same button for a few seconds to cycle between any of the 6 available temperature settings. Let it heat up and after roughly 45 has passed you'll be ready to go!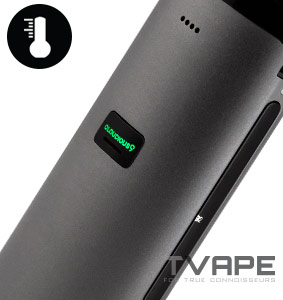 Temperature Flexibility
While you won't be getting full temperature control, similar to the Utillian 421, you're given 6 settings to choose from, ranging from 356°F to 446°F, or 180-230°C for the friends up North.
This is fairly good, however, we'd like to have seen the minimum temperature extend further than just 356/180°. For a budget dry herb vaporizer, this is pretty standard though.

Vapor Quality
Budget dry herb vapes aren't known for their stellar vapor quality, and the Atomic9 sadly won't be cracking that trend.
The hybrid heater, however, is a bit better than most budget conduction chambers and produces better flavor with the stronger vapor production. This is not a whole world of difference but maybe enough to sway some.
The cooling unit is quite interesting and uncommon to find on a budget herb vape and actually works relatively well.
While we struggle to find it better than something like the cooling unit on a Zeus Arc GT or Crafty+, it does have a noticeable effect on the smoothness and quality of the vapor. After an extended session though, you'll still be feeling it in the throat and lungs if you're on the sensitive side of things.
Still, it's a budget dry herb vaporizer and the performance doesn't quite get close to high or even mid-tier devices. If you're a beginner, then it may be just the thing you need, but experienced users will surely be disappointed.

Manufacturing Quality
The Atomic 9 is built fairly well, similar to the V5 Nano, it features an anodized aluminum body with some touches of plastic here and there. Where we find more interest is in the built-in loading shovel which is something we've really not seen before! It works fairly well, however, it would work much better if it were only a few millimeters longer. Better than finger-loading still!
The magnetic mouthpiece, conical loading area, and removable cleaning chamber are also welcome features! We've yet to see these on really any other budget dry herb vapes pack in these features.
In the box is a fairly minimal kit consisting of the device itself, a user manual, and MicroUSB charging cable. This is alright for a budget dry herb vape but we'd like to see some included things like replacement parts, cleaning tools, or a stir tool added. It costs barely anything but helps new consumers get going.
Battery Life
By far the biggest weak-point on this device, the 900mAh battery is tiny compared to other units like the Utillian 620 which houses a shocking 2300mAh cell inside. The result is a stunted battery life of between 3-6 sessions before needing to top up.
It also uses a dated MicroUSB connection alongside a non-removable cell. These are all the elements for dated technology to not make it beyond a couple of years of use. Once the battery starts to significantly degrade, you'll be wishing you had a removable or at least a large battery.
Portability
Very small and comfortable to stuff in any pocket or bag, the Atomic9 is bite-sized like a chocolate bar.
A great form factor for a portable dry herb vaporizer, the Atomic9 can definitely be taken basically anywhere with you without a problem. Though not as tiny as something like the DaVinci Miqro, you really won't notice it much in your pocket.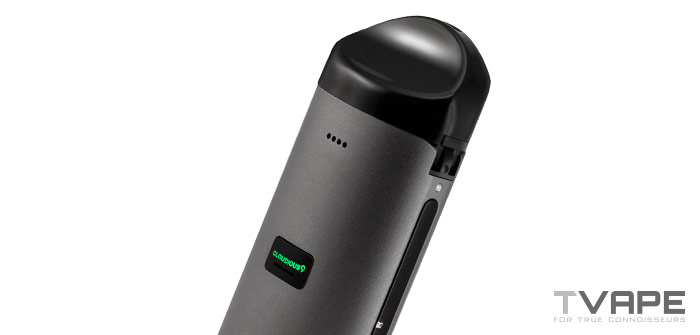 Ease of Use
Budget dry herb vapes are very easy to use, take the LITL 1 vaporizer for example,  the Atomic9 is quite simple too. Sharing with friends and strangers won't be a problem provided they know to inhale from the top. The integrated loading tool makes it easier to load the device and cleaning isn't too difficult.
The removable cooling unit can be soaked in a small bit of isopropyl alcohol, while the chamber can be easily cleaned with a cotton swab dipped in iso. Gently scrubbing any areas with gunk a build-up will do the trick and have you clean as new in just a few minutes.
Discreetness
It's a pretty small little unit that hides away comfortably in the hand.
With how common nicotine vapes are nowadays, you shouldn't run into any problems if someone catches you puffing on it.
Just be conscious of the noticeable amount of smells the unit puts out. It will certainly still smell like a dry herb and you should keep this in mind!
Overall Experience
It's by no means a bad device and outperforms the last generation of portable budget herb vapes comfortably. The integrated stir tool and magnetic mouthpiece are nice touches, and the cooling unit does a decent job at conditioning the vapor before it hits.
With that being said, the performance is just alright and nothing that'll impress us. The battery life is poor and non-removable, and the equally priced Utillian 421 and DynaVap M both beat it handily.
If you want to dip your toes in and get a decent budget portable herb vape, then it may be all that you need. We'd recommend spending a few more coins though and getting something a tier above, it'll definitely be worth it in terms of performance!
If you have questions about our Cloudious9 Atomic9 review or just want to let us know what you think, feel free to drop us a comment below! Also, don't forget to follow us on Facebook, Twitter or Instagram to keep up to date with all our contests, sales alerts and other fun stuff! Thanks for reading and as always, keep vapin'!