The Vaporesso Swag Starter Kit features an 80W mod with temperature control, as well as a convenient top-filling tank that works with a wide variety of coils. It's also very small, potentially making it a good option for on-the-go use. Let's check it out now. Also be sure to check our vape buyer's guides for important information to consider before making your first purchase.
Review: Vaporesso Swag

Manufacturing Quality
The manufacturing quality of the Swag mod is good. You would typically associate mini mods with large sacrifices in other areas like power and performance, but you really don't have to compromise all that much with this.
To appreciate how small this is, just look at the battery cap. This is smaller than an 18650, so they had to include a cap that sits above the base to hold the battery inside. This is far from the first vape to have this in the design, but it's still a good illustration of the size.
The chip in this is their OMNI Board 2.0. This probably won't mean anything to most people, but it translates to a surprisingly versatile mod. This has wattage, temperature control, TC, and bypass heating modes, as well as smart battery charging and even a clock.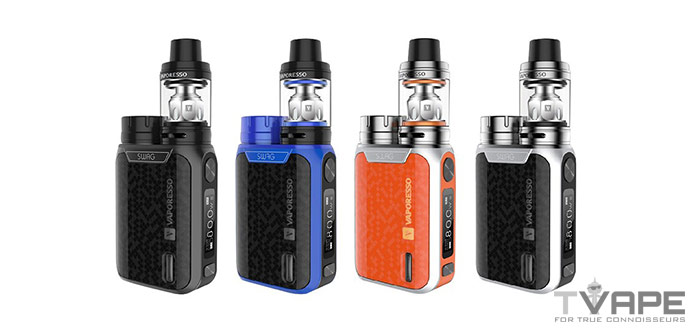 The exterior is also well done. According to their website, the sides are made using some type of injection molding. In theory this should make the finish more durable than units that are painted, leading to a vape that stays looking good for longer. Time will tell if this is true or not, but it sounds good.
The tank is also well made. It fills from the top and has airflow control along the bottom. There are five coils that work with it. There's nothing groundbreaking about it, but it covers all the bases.

Flavor Quality
The flavor and vapor quality put out by the kit are both good. The kit comes with the GT2 coil and the GT CCELL. The GT2 is a 0.4ohm single coil that delivers a fairly balanced blend of both flavor and cloud production. Nothing revolutionary, but it gets the job done in an enjoyable fashion.
The CCELL is made with ceramic instead of cotton wicking material. According to Vaporesso, this allows the coil to deliver vastly improved flavor. Not only that, these coils are supposed to be safe at higher heats so that they can deliver bigger clouds, plus they're supposed to last a good deal longer than a regular coil as well.
In my experience, they are good coils. They deliver very good flavor and big clouds. They last longer than many other coils. But I wouldn't go as far as saying that these blow all other coils out of the water.

Power Flexibility
The power flexibility of this kit is good for the small size and single 18650 battery. You get up to 80W from this, plus temperature control, TCR, and bypass mode.
There are temperature control modes for stainless steel, nickel, and titanium with a range of 200-600F for each. The minimum resistance it can handle is 0.05ohm.
Other than getting a bigger mod that delivers more power, this is pretty much the extent of what is currently on the market in terms of power options.
The Swag is fairly easy to use. I'm personally growing more and more partial to touch screen mods because the menus are more intuitive, but that really isn't an option with tiny mods like this. Not yet, at least.
So for what this is, it's about as easy as it could be to use. The menu is simple and easy to navigate once you get used to it. The tank as a straightforward setup, and you can fill it by just twisting the top open.
You shouldn't have a problem using this, even if you've never used a vape before. The only way to get something easier to use is if you are willing to give up versatility.

Portability
The portability of this is very good. The height of the mod is less than 3", even when you include the cap for the battery. The width is about 1.9", and it's about 1" thick. This is small enough for me to carry it comfortably in my pocket. There doesn't seem to be any leaking problems, so you don't have to worry about that either.
This is small enough for me to carry it comfortably in my pocket. There doesn't seem to be any leaking problems, so you don't have to worry about that either.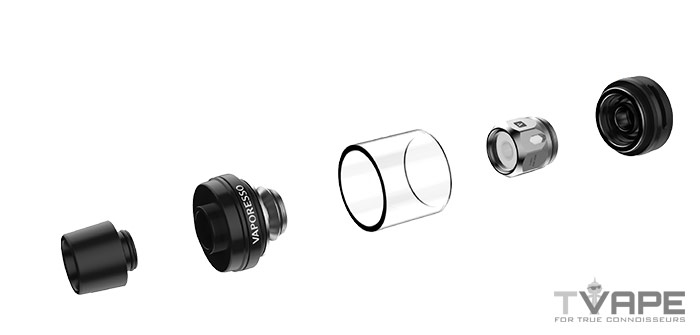 Overall Experience
The Vaporesso Swag is a good starter kit.
Nothing about it blew me away and made me think that I had to have one, but it may be a great option for someone who doesn't have a vape yet. A lot of beginners opt for vapes that are exceedingly simple to use, but they are frustrated in a few months when they realize they wish their vape could do more.
This is a good balance of being small and easy to use, while still giving you room to play with all the different heating modes that are currently available on the market.
This could also be a decent pickup if you are looking for something small to complement a bigger mod that you use when portability isn't a concern. I personally like the AIO tank-inside the base style for that purpose, but this would be more versatile because you could swap out the tank for something else you prefer.
Those looking for a more traditional setup with more power be sure to check out the Coolfire IV 100W. And for those who want a similarly portable vape that offers wattage control, we highly recommend the Vaporesso Target Mini.
We hope you enjoyed reading our Vaporesso Swag review! We would love to hear from you! Feel free to leave a comment in the section below, you can do so anonymously 😉 Don't forget to follow us on
Facebook
,
Twitter
or
Instagram
for contests, sales alerts and other fun stuff! Thanks for reading and as always, keep vapin'! 😉