The SMOK Stick V8 kit includes a pen-style base with a 3000mAh internal battery and the TFV8 Big Baby tank. The tank fills from the top and has adjustable airflow, plus it comes with two different coil options. Let's take a closer look at the performance now. Also, be sure to check our
vape buyer's guides
for important information to consider before making your first purchase.
Review: Stick V8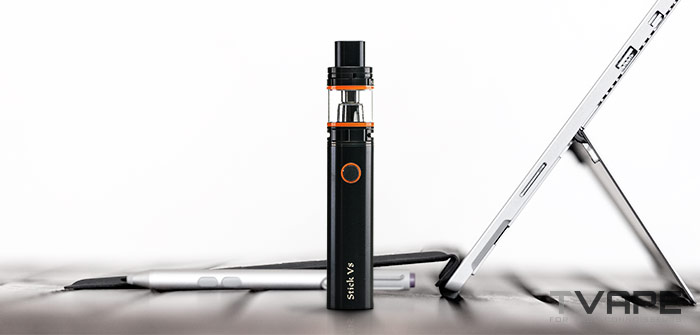 Manufacturing Quality
I'm not going to lie, the first thing that caught my attention about the Stick V8 was all the design and color options. While most manufacturers offer their vapes in a handful of color combinations, SMOK has become known for having dozens of different colors and crazy designs. This one is available in four different rainbow-looking iridescent options, camo, and at least 10 solid colors.
Now that I've tried it, I think that it is well built for the most part, but there is one thing that I really wish they would have done differently. Why does this have an internal battery? I've learned to accept internal batteries on really small box mods because it allows them to create a smaller build without sacrificing battery capacity.
But this clearly has the room for an 18650, and that is probably what is inside anyway. There's nothing sophisticated going on that should be taking up that much room, so I think they could have made it removable. My guess is that they did this to keep things simple for beginners, but I don't really get the beginner feel from this or the way they've positioned it. If you are someone who also uses 510 oil cartridges and other vapers have reported CCELL Silo is a good place to start.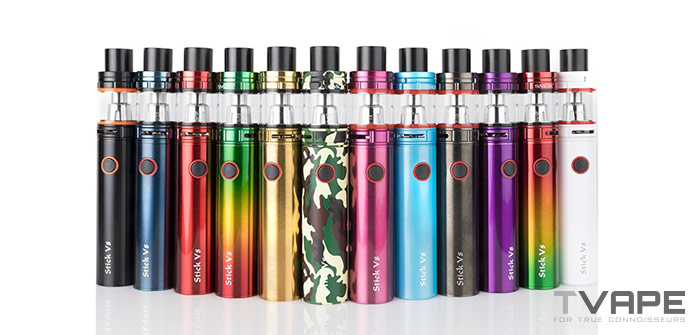 Maybe I'm crazy. I like that the capacity is 3000mAh though. That's really all there is to say about the base, because it is unregulated. The voltage output will vary with the battery charge, so there is only one button on this for turning it on/off and engaging the coil.
Most of us are probably intimately familiar with the Big Baby tank by now. If you've never heard of it or tried it, all you need to know is that it is an above average tank that has all the modern features you'd want in a good tank like adjustable airflow and a top that easily swivels for filling. The coils perform well and last between 1 and 2 weeks on average.
I've had these tanks leak on my on occasion, but it has always been fixed by replacing the coil. That's just something you should keep in mind if you get this and have problems.
 
Flavor Quality
The vapor of this is excellent. The Big Baby tank is a very good tank with coils that can deliver both great flavor and big clouds. There are two coils that are included with the kit. One is rated at 0.15ohm and one is rated at 0.25ohm. Both were designed specifically for this kit.
The 0.15ohm delivers very impressive clouds and the flavor is still great. The 0.25ohm coil performs slightly better on flavor, but the cloud size isn't as big. The biggest difference to me was the airflow. The 0.15ohm coil seemed much more open, allowing for a big yet smooth draw with the airflow adjustments on the tank fully open. People who use 510 cartridges tend to prefer the CCELL Palm.
Power Flexibility
There is no power flexibility on this at all. It is only capable of delivering voltage based on the charge state of the battery. You can't select the temperature, wattage, or even voltage that you want to vape at.
Vapes like this perform much better when fully charged. This has a battery indicator that will tell you when you absolutely have to charge it, but you are better off keeping it as charged as possible at all times.
If you want to 'adjust' the power, you can switch what coil you use.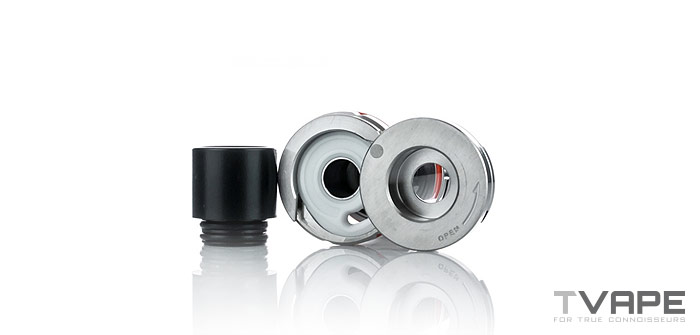 This is very easy to use. There is one button on the base. 5 clicks turns it on or off, and clicking and holding it will engage the coils. The tank easily screws on and off the battery, and it has a very convenient swivel top for filling.
The micro-USB charge port is located on the back of the unit, although I don't know how fast it charges. Since they don't specify 2A, I'm guessing it only has 1A charging.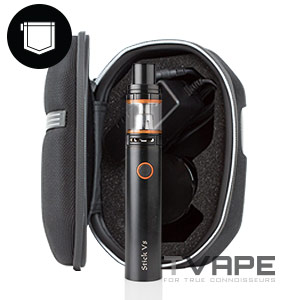 Portability
The portability of this is good. I like the pen-style design, but I think the small AIO units may be a little more portable because they are a good deal shorter. I guess it depends on how and where you plan on carrying it.
The nice thing about this is that it has a 3000mAh battery, which will keep you going for the majority of the day. Just remember that the performance will drop off the more you need a charge.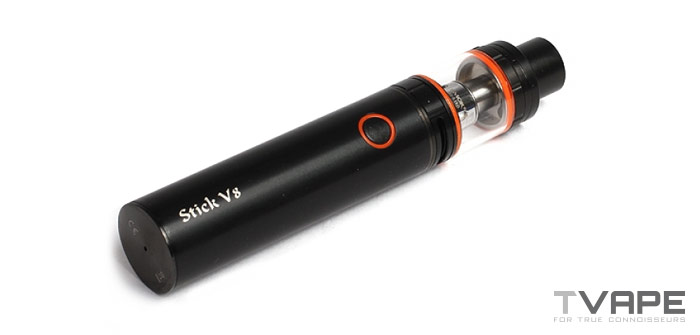 Overall Experience
I think the SMOK Stick V8 is a good kit.
I just really wish it had a removable battery. The internal battery has its merits, especially for beginners, but this seems oriented for more experienced vapers. I base this on the included tank and coils, which aren't designed to please people switching from smoking. They're designed to deliver big, satisfying clouds of vapor with good flavor.
I'm obviously not complaining about that, I just can't help thinking how great it would be to be able to keep an extra 18650 with this.
That's just me though. Even without the removable battery, this is a very portable kit that would be a good one to keep charged up and ready to use when you don't want to carry your regular box mod with you.
If you want something extremely simple, check out the Kandypens Rubi and if you are looking for a mod style kit to start with we recommend the SMOK Procolor.
We hope you enjoyed reading our SMOK Stick V8 review! We would love to hear from you! Feel free to leave a comment in the section below, you can do so anonymously 😉 Don't forget to follow us on
Facebook
,
Twitter
or
Instagram
for contests, sales alerts and other fun stuff! Thanks for reading and as always, keep vapin'! 😉