Today we'll be reviewing that SMOK Stick AIO. I don't know about you, but lately it seems like AIOs have been all the rage with every manufacturer jumping in on the party. If you aren't familiar with AIOs, the concept is simple. AIO stands for all-in-one, which means that the tank is located inside the base rather than on top. These technically started with some of the cheaper pen-style vapes, and more recently evolved to high-functioning units with boxy designs. This one is a blend of those two options, a well-made pen vape that we're excited to check out. Let's get to it… Also, be sure to check our vape buyer's guides for important information to consider before making your first purchase.
Review: SMOK Stick AIO

Manufacturing Quality
Let's start with the good things about the SMOK Stick AIO. If you look past the lack of versatility, the manufacturing quality is actually very good. This is a very slick vape with excellent machining. It's also extremely easy to use, albeit all one-button vapes are so that's not surprising. The not-so good things are the fact that the tank is built in and there is only one type of coil that SMOK currently makes for it. There also aren't any power settings, you just turn it on and press the button to engage the heat.
To be fair, these shouldn't be viewed as deal breakers. This vape is designed that way on purpose. What you give up in regards to versatility, you gain in simplicity, convenience, and portability. I just wanted to point out the limitations from the get go. Users who are interested in 510 thread cartridges for oil often prefer the Tronian Nutron.

Flavor Quality
The flavor of the SMOK Stick AIO is actually surprisingly good. While the SMOK Stick V8 is more of a cloud producer, this one is definitely more oriented towards flavor in my opinion.
With that being said, the cloud production is also good with this one. It won't blow experienced vapers away, but beginners will likely be surprised by how much vapor it puts out.
Remember, there is nothing you can do to change the vapor. There is only one type of coil, you don't get any airflow adjustment, and the power output is fixed.

Power Flexibility
I've already told you all there is to know about the power flexibility. There is none. The 1600mAh battery outputs a fixed amount of power, and there is only one type of coil that SMOK currently makes for this.
These coils have a 0.23ohm resistance. Like I said, you don't really get any versatility with this vape, but it is very easy to use. Speaking of…
If you are someone who also uses 510 oil cartridges and other vapers have reported Vessel cartridge battery is a good place to start.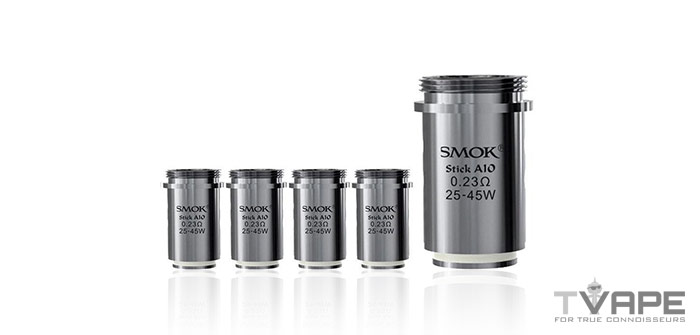 This is as easy to use as any vape that you will find, anywhere. There is only one button on the entire unit. All you have to do to turn it on is click that button five times, then pressing and holding the button will engage the coil.
The tank is top-filling and works like pretty much every other SMOK tank, meaning it slides easily to the side for you to put in your liquid. Replacing the coil is also extremely easy. I don't see any reason that a complete novice couldn't buy one of these and use it immediately.

Portability
The portability of this is actually my favorite feature. I'm a big fan of AIOs for when portability is important, but this is even better than most.
The slim and short size make this very easy to carry, whether that is in your pocket or hand. It's also built well enough to carry in a bag without worrying about it breaking, especially since the tank is contained inside the base.

Overall Experience
I know it may seem like I've been pretty hard on it, but I actually think the SMOK Stick AIO is a good vape for what it is.
You shouldn't buy this expecting it to blow you away with the vapor production or win any cloud competitions. It's unlikely that it will win any awards or be a fan-favorite. But despite all that, it's still a good option for certain people and certain situations.
The first category of people that I could see this being good for is people new to vaping. Most don't jump in looking for the ability to vape at high wattages like the you can with the Coolfire IV 100W, that's something that you have to work up to. Beginners are normally just looking for something dependable that will deliver consistently good vapor. This fits that bill.
The other category is anyone who occasionally needs something extra portable. This is a great option for taking with you on a hike or anywhere else where a normal box mod isn't feasible.
If you fall into either one of those categories, this could be a great buy. Or if you want something even slimmer we suggest checking out the Joyetech EGO AIO.
We hope you enjoyed reading our SMOK Stick AIO review! We would love to hear from you! Feel free to leave a comment in the section below, you can do so anonymously 😉 Don't forget to follow us on
Facebook
,
Twitter
or
Instagram
for contests, sales alerts, and other fun stuff! Thanks for reading and as always, keep vapin'! 😉