Today we'll be taking an in-depth look at SMOK's newest mod, the SMOK Procolor. This thing is capable of pumping out 225W, and it also has a brand new UI and a color LED shield around the screen. If you're looking for a high-powered mod that will make a statement, this may be just the thing you've been searching for. Let's take a look at how it performs now… Also, be sure to check our vape buyer's guides for important information to consider before making your first purchase.
Review: SMOK Procolor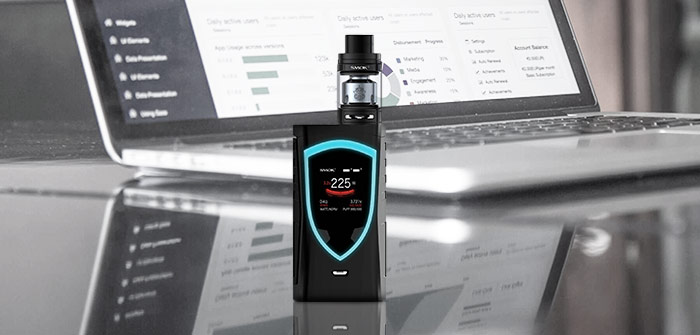 Manufacturing Quality
The manufacturing quality of this entire kit is excellent, but the first thing anyone is going to notice about the SMOK Procolor is the LED shield. The LEDs add a splash of color to the front of the device around the screen, and you can even change their color. I know this has nothing to do with the important parts of the vape, but it's obviously the focus here considering the name, and I have to say it's pretty cool.
If you're familiar with other SMOK products, you may be interested to know that the UI for the screen is completely redesigned. I'm a big fan of the new setup. It's simultaneously easier to read/understand and simpler to navigate. The whole thing is much more intuitive, which is something a lot of vapes struggle with.
Besides the two things I've just mentioned, this has a bunch of other desirable features. It has two 18650's, it delivers up to 225 watts of power, and there's a micro USB port for charging or upgrading the firmware. It also has temperature control and a whole side trigger for firing.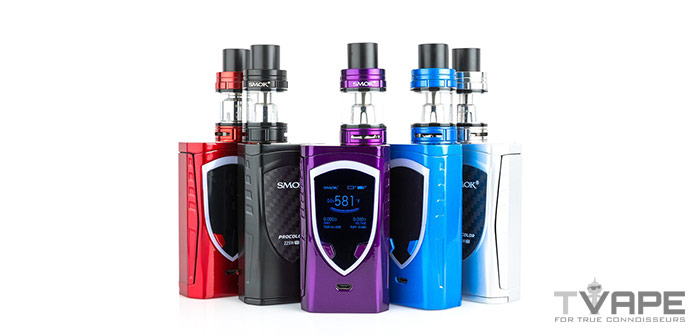 The tank that is included with this is the TFV8 Big Baby. If you aren't familiar with this tank, the important things worth knowing are that it's well made, it has adjustable airflow, and it fills from the top. There are also several great coil options that work with it.

Flavor Quality
The flavor and overall vapor quality produced by this kit are excellent. The TFV8 Big Baby tank is an awesome tank to get if you don't have one yet because it delivers in a big way on both flavor and vapor output. In other words, you'll be blowing big clouds that also taste great.
There are two coils included in this particular kit. The first is the V8 Baby-Q2, which has a 0.4Ω resistance and two coils. The second is the V8 Baby-T8, which has a 0.15Ω resistance and 8 coils! If you really want to blow huge clouds, that second coil is the one you'll want to try out. You should enjoy the flavor from either, and the airflow is excellent as well. Users who are interested in 510 thread cartridges for oil often prefer the PCKT One Plus.

Power Flexibility
The power flexibility is exactly what you would expect from a higher-end mod these days. You get all the standard modes, including variable wattage, temperature control, and memory.
In wattage mode you can choose anything between 6 and 225 watts. There are temperature control modes for stainless steel, nickel, and titanium, with a range of 200F to 600F.
The resistance range for wattage mode is 0.1Ω – 3.0Ω. For the TC modes it's 0.06Ω – 3.0Ω.
I think ease of use is one of this mods best features. While it isn't easy in the same way that a one-button vape with no power flexibility is, the new UI and menu is much better than what I expected.
I've gotten used to being let down by the screens and menus on vapes. They're usually cumbersome and require complicated button clicking to navigate. In my opinion, everything about the new menu on the Procolor is more intuitive and therefore easier to use.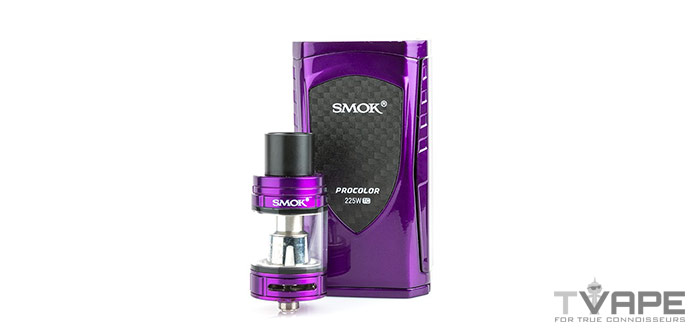 The base screen layout even has a better setup, making it easier to find the information you want at a glance. 

Portability
The portability of this isn't bad for a 225 watt vape. The mod itself is a little bigger than the Alien, but not by much. The specific dimensions of the mod are 85x46x29.5mm.
Generally speaking, you're going to have to sacrifice portability to get big power like this is capable of. This has 2 batteries, after all. If portability is your biggest concern, you may want to consider getting something smaller.
There are mini mods and AIO devices that have the tanks inside them, but again, you'll be sacrificing other things for that portability. As an example, we recently review the Kanger TOGO. It's one of the most portable vapes we've ever tried, but it doesn't give you any control over the power at all.

Overall Experience
I really like the SMOK Procolor 220W kit.
It's got all the basics that you'd be looking for in a high-powered vape, but adds on a new and improved UI and a cool LED shield around the screen. Are these necessary? No. But in my opinion, they're a good reason to choose this over a comparably spec'ed mod if you were in the market for a new vape.
The Big Baby tank is a good inclusion for the kit. Some people may be getting antsy to see something new, but the overall performance and coil options make this an awesome tank to own if you don't already have one.
Long story short, I have no problem recommending the SMOK Procolor, and I'd be very surprised if this doesn't end up being a very popular vape over the next few months, in fact you can grab one directly from our store.
Those who think vape may be too much to start with should consider the Coolfire IV 100W. And for those who want a more portable vape we highly recommend the Vaporesso Target Mini.
We hope you enjoyed reading our SMOK Procolor review! We would love to hear from you! Feel free to leave a comment in the section below, you can do so anonymously 😉 Don't forget to follow us on
Facebook
,
Twitter
or
Instagram
for contests, sales alerts and other fun stuff! Thanks for reading and as always, keep vapin'! 😉