The SMOK OSUB King is the newest mod in the OSUB lineup, offering up to 220 watts of power from a dual 18650 battery setup. The kit also includes the popular TFV8 Big Baby tank. This is definitely a solid setup, but is it different enough to be worth buying? Also, be sure to check our vape buyer's guides for important information to consider before making your first purchase.
Review: OSUB King Kit

Manufacturing Quality
The manufacturing quality for the OSUB King is good. If you're familiar with the other OSUB mods, then you can expect more of the same. The only difference is that this is bigger. Instead of one battery, you get two and the wattage increase that comes with it. The top is also bigger, so 25mm tanks will sit on the top with no overhang.
Now if you aren't familiar with the OSUB lineup, what you're looking at is what I consider to be a pretty basic vape. I don't mean basic in a bad way. I just mean that these have exactly what you expect them to have, no more and no less.
There's nothing remarkable about the design, although the multicolored one does look good. The screen is pretty small and reminds me more of something you'd see a few years ago, but it still has everything that you need to know on the display. The menu is also relatively easy to navigate.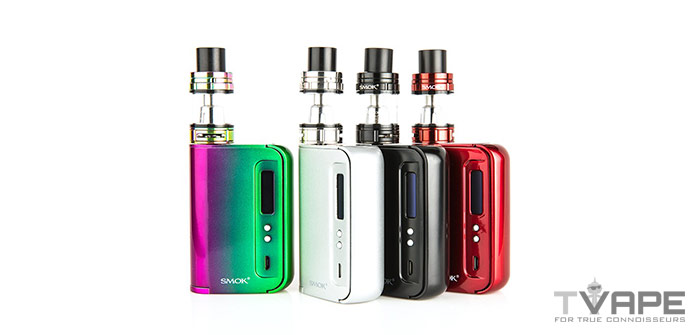 The fire button is the side trigger style, and the up and down buttons are just two small round bumps that stick up off the front below the screen. There is a micro USB charging port that allows you to upgrade the firmware as well.
My only real complaint is that the buttons are a little close together for my liking.

Flavor Quality
For those of you who have either tried SMOK products or read other reviews, you're probably sick of hearing about the Big Baby tank. They seem to fit this, the Baby Beast, and the X-Baby in everything.
For those of you not familiar with the Big Baby, it is a very good tank. The flavor is outstanding, as is the overall vapor production. There are two different coils included with the kit. The first is the V8 Baby-Q2, which has 2 coils with a resistance of 0.4ohm. It's designed for use between 40 and 80 watts. The second is the V8 Baby-T8, which has 8 coils with a resistance of 0.15ohm. It's designed for use between 50 and 110 watts. There are additional styles you can buy separately. If you are looking for a 510-thread battery for oil cartridges we suggest checking out the PCKT One Plus.
If you don't have another tank, this one is a great one to start with. The vapor quality is well above average and you get a ton of flexibility to find a style you really enjoy.

Power Flexibility
The power flexibility of the OSUB King is good. It has both wattage and temperature control modes. In wattage mode, it can deliver up to 220W. There is temperature control for stainless steel, nickel, and titanium, with a range of 200F to 600F. You can also adjust the wattage up to 220W in the TC modes.
This should be more than enough for most people and the vaping that they will be doing.
This is an easy to use kit. Like I said above, there isn't really much to it. There's just a small screen, and the menu isn't all that big or complicated. The tank is also easy to use, and the top-filling design makes it convenient to refill on the go.
This obviously isn't as easy to use as the new touch screen mods are, but it's no harder than the majority of mods out there.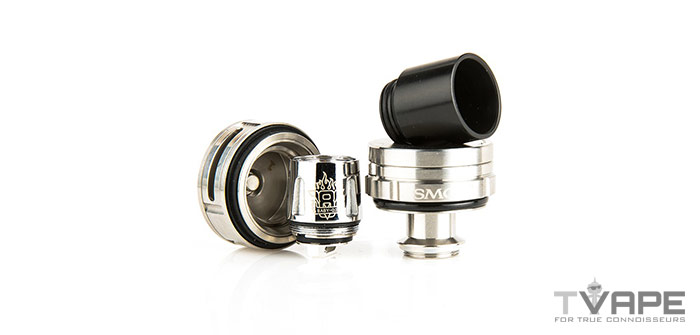 Portability
The portability of this is also firmly in what I would consider average for dual 18650 mods. It's a little shorter than most, but it makes up for that by being a little wider. The dimensions for the mod are approximately 3-3/16″ x 2-1/4″ x 1″. The tank adds a couple of extra inches to the height though.
If portability is your biggest concern, there are many mods out there that are much smaller than this. I always recommend checking out some AIO options. If you're just looking for a high-powered mod that is relatively easy to carry, this isn't a bad option.

Overall Experience
The SMOK OSUB King is a good mod, and the Big Baby is a great tank.
I'm certainly not blown away by this kit, but it is definitely solid. If you already have other vapes and are here because you like checking out everything that hits the market to see what you may want to add to your collection, I don't think this has anything that makes it worth buying. If you have another 200+ watt vape or even one of the OSUBs, you aren't getting anything new here.
On the other hand, if you don't have a high-powered mod and are new to SMOK or the OSUB series, this may not be a bad pickup. Ignore my lack of excitement about this, I'm just a bit jaded after seeing so many other mods just like this. The King doesn't feel worthy of being a new release to me, it feels like a good mod that was released last year.
Those who think vape may be too much to start with should consider the Coolfire IV 100W. And for those who want a more portable vape we highly recommend the Vaporesso Target Mini.
We hope you enjoyed reading our Smok OSUB King review! We would love to hear from you! Feel free to leave a comment in the section below, you can do so anonymously 😉 Don't forget to follow us on
Facebook
,
Twitter
or
Instagram
for contests, sales alerts and other fun stuff! Thanks for reading and as always, keep vapin'! 😉