We've got a really exciting kit to review today, the SMOK GX2/4. A more appropriate name may have been the SMOK Transformer, because this mod has the capability to run off either two or four 18650 batteries. With two batteries, the max power is 220W. With four, it bumps all the way up to 350W. That is some serious wattage! The kit also includes the popular TFV8 Big Baby tank, which is known for high performance and great flavor. Let's see how these work together… Also be sure to check our vape buyer's guides for important information to consider before making your first purchase.
Review: Smok GX2/4 Starter Kit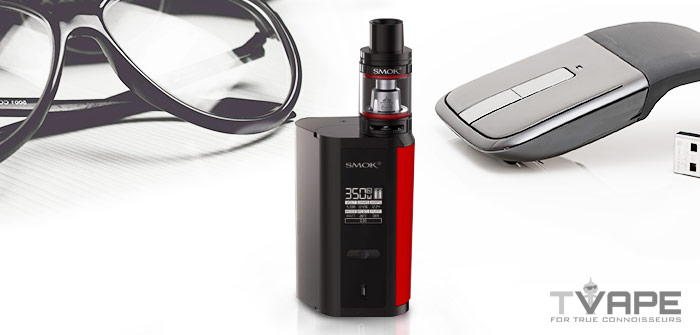 Manufacturing Quality
The GX 2/4 mod is extremely well made. The biggest feature is obviously the ability to change how many batteries it runs off. When I first heard about this, I assumed it would be cumbersome and inconvenient. That is not the case at all. The normal battery cover just pops off and you snap the bigger battery compartment in its place. The process is easy and intuitive.
The screen is big and located on the side. On that note, so is the trigger. I've grown to like big triggers more than a fire button, so I'm glad SMOK went with this design. I also really like how the GX 2/4 looks. The finish is smooth, metallic, and slick. There aren't any complicated designs, just clean lines and good machining.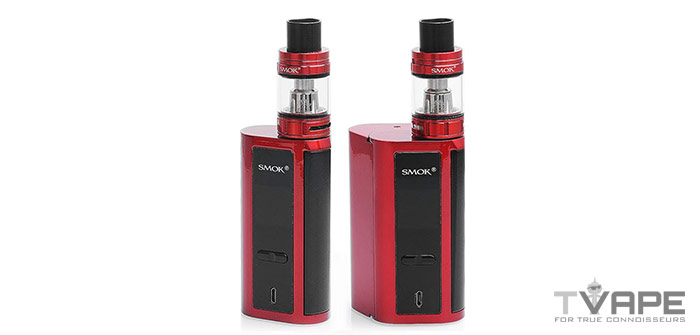 The TFV8 Big Baby tank is also well made. It has a 5mL capacity and comes with 2 coils in this kit. The first is the V8 Baby-Q2 0.4 ohm dual coil, and the other is the V8 Baby-T8 0.15 ohm octuple coil. It also fills from the top and has dual airflow control on the bottom.

Flavor Quality
The flavor that this kit can put out is top of the line. For starters, the mod is extremely versatile, which means it can be used to power a wide range of tanks and coils. Tanks and coils are where the flavor actually comes from, so it's good to have a lot of options.
More importantly, if you appreciate good tasting vapor and lots of it (who doesn't?), then I expect you'll really like the Big Baby tank. I consistently notice a better flavor profile from the same juice when using this tank, and the clouds I blow are ridiculous, especially with the V8 Baby-T8 0.15 ohm octuple coil.

Power Flexibility
The power flexibility is better than pretty much any other mod that I've used. Like I mentioned in the intro to this review, the GX2/4 can pump out 350W when used with four 18650s. To be honest, I have no idea why you would actually want to vape at that wattage, but for the crazy people out there, you have the option now.
Just to reiterate, the max wattage is 220 with two batteries and 350 with four. The minimum is 6W in either case. The resistance range is 0.1-3.0 ohm for variable wattage mode. This also has temperature control and TCR modes. The temperature range is the standard 200-600F, and the resistance range for the TC modes is 0.06-3.0 ohm.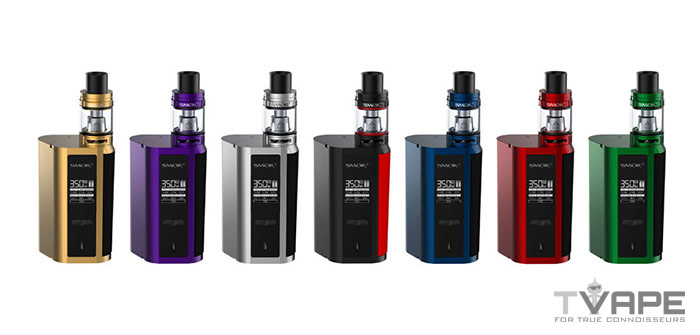 If you've used the Alien, this should be extremely easy to use. The menu is pretty much identical. If you haven't, it can take some time to get used to. It's not that it's setup poorly, there is just a lot of settings you can adjust.
This is true for any mod that has as much versatility as this one, so I wouldn't exactly call this a con. Just be prepared to spend some time getting familiar with navigating the menu.

Portability
The portability of the GX 2/4 is good. There are obviously much more portable options out there, but according to SMOK, this is actually the smallest mod on the market that is capable of 220W.
So if you're looking for a combination of portability and power, this is a great option. If you just want portability, there are better choices out there. This probably goes without saying, but this is not very portable when used with four batteries.
On the plus side, you can get great battery life by using it with four batteries and vaping at relatively low power settings.

Overall Experience
The SMOK GX 2/4 is one of the most versatile and well-made mods on the market, and the Big Baby tank is a great way to round out the kit.
If you're looking for lots of power and great flavor, this kit is a very good option. The fact that it looks great and has the cool transforming ability only adds to the appeal.
In my opinion, experienced vapers will value this more than a beginner. Most people will never come anywhere close to needing the max power of this mod, even when used with just two batteries. Don't get me wrong, it's good to have additional flexibility. I'm just saying that this is likely overkill for the majority of people.
On the other hand, if you find yourself consistently pushing the limits of a vape you already own and want more power, this may be the vape of your dreams…
Those of you who may think this is too much vape for you but also want something with a decent wattage range and great tasting vapor, be sure to check out the Coolfire IV 100W.  And for those who want a vape that is more portable we highly recommend the Vaporesso Target Mini.
We hope you enjoyed reading our SMOK GX2/4 review! We would love to hear from you! Feel free to leave a comment in the section below, you can do so anonymously 😉 Don't forget to follow us on
Facebook
,
Twitter
or
Instagram
for contests, sales alerts and other fun stuff! Thanks for reading and as always, keep vapin'! 😉