The Kanger Juppi Starter Kit features a 75W Juppi TC box mod and the 3ml Juppi Tank. The coils for the tank are actually rewickable, but the mod itself is pretty basic. It's not a bad kit, but you should definitely read the whole review before buying it. Also be sure to check our vape buyer's guides for important information to consider before making your first purchase.
Review: Kanger Juppi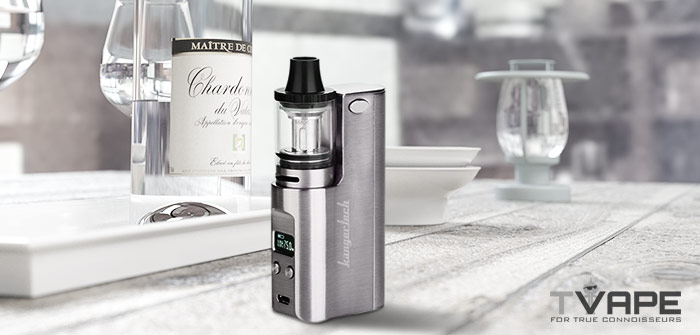 Manufacturing Quality
The manufacturing quality of this kit is average. There's nothing that is particularly bad about it, but I don't find anything to be very impressive either.
For starters, the mod itself works well but lacks a lot of the features that are becoming standard these days. The screen is the thing I'm really getting caught up on. It just seems so small compared to what else is out there, especially now that some mods are going with full touch screens.
I'm also really confused about the button placement. The up and down buttons are located below the screen, but the fire button is up on the side near the top. Maybe other people hold their vapes differently, but it isn't in a spot that feels natural for my fingers to press.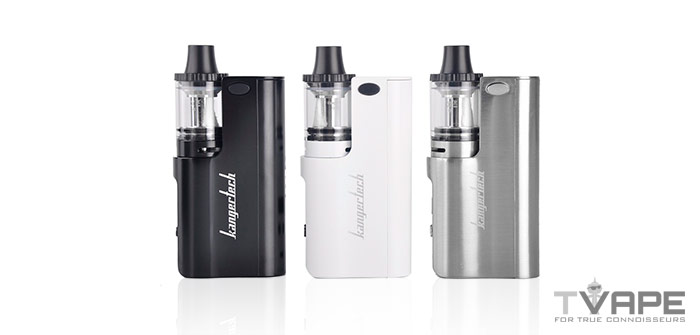 The tank is interesting. I know a lot of people really like it, but I see a couple of ways that it could have been made much better. The cool thing about it is that the coils are rewickable. The core just slides out and a rectangular piece of cotton fits around the actual coil. You can remove an old one and put a new one on in a couple of minutes, and it seems to extend the life considerably.
Like I said, there are a couple of ways it could have been improved. The first is including adjustable airflow. This is such an easy feature to offer. I don't care how much you try to calibrate a tank to have the perfect airflow, people have different preferences. Adding a piece of plastic that rotates so you can change how much air enters shouldn't be that hard. The other thing is that there is only one type of coil that works with this tank. I would have liked to see more variety.

Flavor Quality
The flavor is very good. I've seen someone say that it is the best flavor they've ever had from a tank, but I definitely wouldn't go that far. There are plenty of tanks out there that can outperform it, but this one still does very well.
It also puts out big clouds. The vapor is actually a great balance of both flavor and clouds, though I'd say it's slightly more oriented towards flavor. Obviously the performance will be boosted considerably if you are diligent about replacing the cotton wick. People who use 510 cartridges tend to prefer the Tronian Pitron.

Power Flexibility
The power flexibility is good. This can deliver between 7 and 75 watts, and it also has temperature control modes for nickel, titanium, stainless steel, and nichrome. The temperature range is 200-600F, and the resistance range is 0.1-2.5ohm.
Unfortunately, the Juppi tank and coils don't seem to support temperature control. To unlock that feature, you'd have to use a different tank. Any 22mm tank should fit. The coils that work with this tank have a 0.2ohm resistance.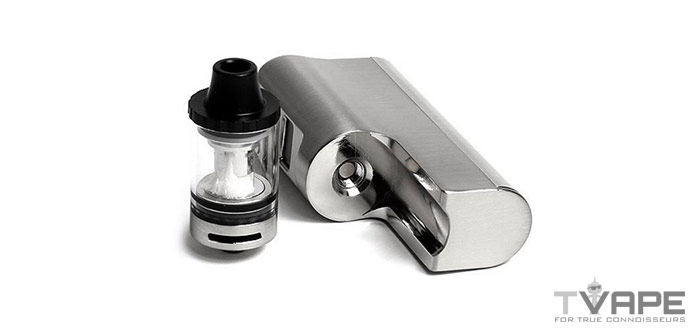 This is easy to use for the most part. The menu is pretty basic and there really isn't much to remember. Click the fire button five times to turn it on, adjust the wattage or temperature with the up and down button, and engage the coil by holding the fire button in.
Very basic stuff. The tank also fills from the top for convenience, although you do have to unscrew the entire mouthpiece to access it.
Like I mentioned above, I think the button placement could be better. That's the only downside I can think of as far as ease of use goes.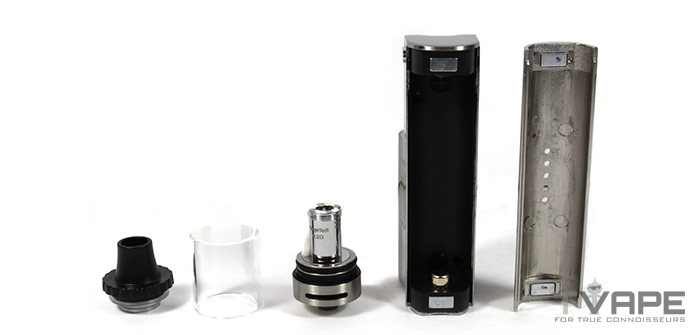 Portability
The portability of this is good. I like that the tank sits down on the side of the unit. It's not actually inside the mod like some AIOs, but it's similar and delivers the same benefits. The whole thing is under four inches tall, including the mouthpiece.
It's easy to palm, and you could carry it in a pocket without too much discomfort. It's not the most portable option on the market by any stretch of the imagination, but it should be good enough for most people.

Overall Experience
The Kanger Juppi Starter Kit is a good, if unremarkable, way to get started with vaping.
I doubt experienced vapers will see much of a reason to pick one of these ups, but it really isn't a bad option for beginners. The rewickable coils are a good way to get used to the idea of rebuildables, but they aren't quite so intense.
They also deliver very good vapor and are cheap to maintain. Another plus is that the mod is versatile enough that you could get a new tank and play around with temperature control.
In other words, this is far from perfect but it will get the job done. If you can grab one for a good price, it may not be a bad first vape.
Those who are looking for a little more power may want to consider the Coolfire IV 100W. And for those who want a similarly portable vape we highly recommend the Vaporesso Target Mini.
We hope you enjoyed reading our Kanger Juppi review! We would love to hear from you! Feel free to leave a comment in the section below, you can do so anonymously 😉 Don't forget to follow us on
Facebook
,
Twitter
or
Instagram
for contests, sales alerts and other fun stuff! Thanks for reading and as always, keep vapin'! 😉