The JUUL is an e-cig made specifically for people who are trying to make the switch. The small, easy-to-use design, along with the high nicotine levels and strong throat hit, have made it very popular over the last few years. Let's see what all the buzz is about. Also be sure to check our
vape buyer's guides
for important information to consider before making your first purchase.
Editors Note:
For those looking for the JUUL experience but want the flexibility of using their own e-liquids and oils we suggest checking out the
Kandypens Rubi
. The Rubi shares a similar shape and features to the JUUL but allows for users to fill the pods with their own choice of liquids and oils rather than having to continually buy pre-filled pods.
Review: JUUL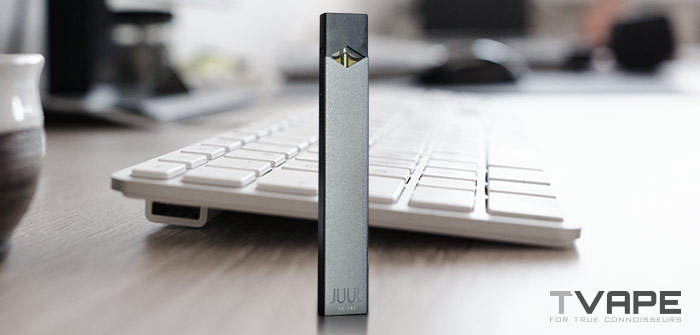 Manufacturing Quality
The manufacturing quality of the JUUL is fantastic. It lacks almost every feature that I'm typically looking for in a vape, but in this case I'm not holding that against it. This thing is the smallest vape that I've ever used that actually delivers a good experience. The vapor it produces isn't going to be for everyone – it's a very strong mouth-to-lung hit – but I'll go over that in the next section.
So back to the size. I always talk about how comfortable a vape is to carry in your pocket. You could put this in the change pocket on a pair of jeans and it would still be comfortable. It's ridiculously thin for how powerful it is.
The way it works is very simple. The thin base is essentially just a small battery. The top has an area where you plug in your pods. The pods have a mouthpiece built on top. Once the pod is inserted, all you have to do to get vapor is take a draw. The power is activated by the negative pressure you create when inhaling.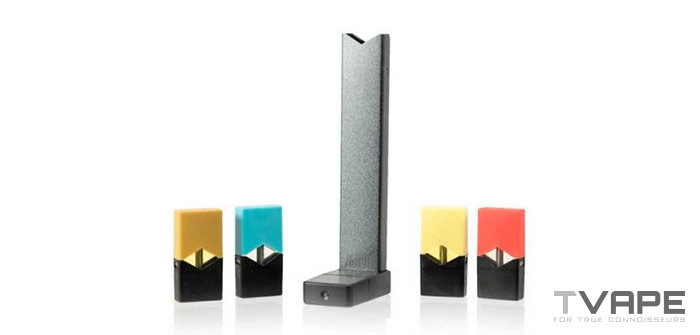 To charge the battery, you just plug it in using the provided USB port. The battery connects to the port using magnets, which hold it on very well.
That's literally all there is to it. It's a refreshingly simple design. This shouldn't be all that surprising, because the people behind the JUUL are the same ones who make the Pax line of vaporizers.

Flavor Quality
The JUUL delivers a very strong mouth-to-lung draw that hits the throat hard. As far as the flavor goes, there are four that come with it. Three are traditional tobacco flavors, one that is menthol.
There is also a fruity one and one that is creme brulee.  It will just depend on what you are looking for. They also make a mango flavored pod, but I didn't try it.

Power Flexibility
There is no power flexibility. You just plug in your pod and take draws when you want to. No buttons or settings of any kind. One cool thing that they built in is the ability to tap the top to check the battery level.
There is a small light that will blink when you tap it, and the color indicates the charge level. Green is good, yellow means you are getting depleted, and red means you should charge ASAP.

You actually can't get easier to use than the JUUL. You literally just put your pod in and take a draw when you want. Vapes are often overwhelming to people who are just switching over, and this completely gets rid of any perceived difficulty.
Literally anyone could use this without any problems or learning curve.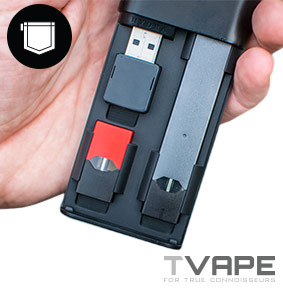 Portability
The portability of this is obviously excellent. It's much smaller than pretty much any vape out there, yet still manages to deliver a very good experience. You'd think that the battery life would be a big problem considering the size, but the JUUL manages to deliver a lot of draws from a full charge.
I'd say that 75 to 100 is a reasonable estimate. With the high nicotine levels, you'll be using this a lot like a cigarette, so you probably won't be using this non-stop. The USB charger lets you charge pretty much anywhere, and it only takes 1 hr to go from dead to fully charged.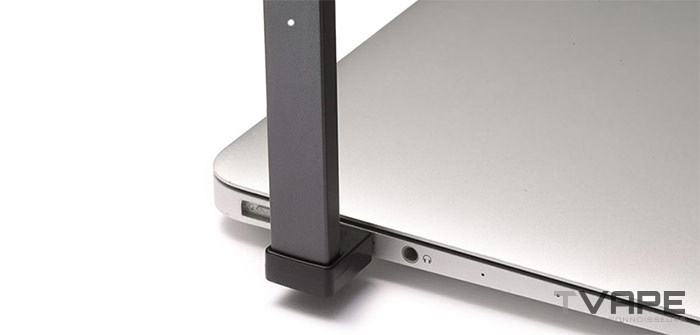 Overall Experience
Now that I've tried it, I think the JUUL is a great e-cig for beginners looking to switch.
It's not really something that people who like box mods are going to enjoy, unless you still miss the feeling of alternatives or want something that is ultra-portable to get your vapor fix on-the-go. This would be great to keep in your car, for example.
The best features are the tiny size, the extreme ease-of-use, and the vapor quality. The strong hits and mouth-to-lung draw style won't be for everyone, but I know a lot of people who crave it. A great alternative to the JUUL is the Aspire Breeze, which will allow you to fill it with own e-liquid rather than purchasing pods.
Those who are looking for a more traditional vape setup with lots of power be sure to check out the SMOK G150.
We hope you enjoyed reading our JUUL Review review! We would love to hear from you! Feel free to leave a comment in the section below, you can do so anonymously 😉 Don't forget to follow us on
Facebook
,
Twitter
or
Instagram
for contests, sales alerts and other fun stuff! Thanks for reading and as always, keep vapin'! 😉