Updated: Dec 17, 2019
The Crafty isn't a new device by any means, originally being released in 2014. Five years down the line, the German giants Storz & Bickel have released a slightly updated version of their well-regarded Crafty. We put the updated Crafty up to the test, and see how it performs in today's market.
If you'd like to purchase the Crafty Plus Vaporizer and are located in the United States or Worldwide check out our shop for the best prices and fastest shipping rates.
Is this is your first dry herb vaporizer? Check out our useful Best Dry Herb Vaporizer Ranking Chart to see the best the vaporizer industry has to offer.
Review: Crafty Vaporizer
What's up everyone? This is Keagan for TorontoV TV. Let's have a look at the Crafty vaporizer, one of the very first portable vaporizers to be released by Storz and Bickel, the makers of the famous volcano vaporizer. First i'll tell you what's in the box, then we're getting to how it works.
Inside the package you'll find the Crafty vaporizer, one power adapter with USB cable, one liquid pad, three spare screens, a cleaning brush, a herb mill, a filling aid, one set of spare seal rings and if you order with us you can also choose to receive a Zeus Bolt Grinder made of aircraft-grade aluminum.
The first thing you're going to want to do with your unit is sterilize it. To do that, press and hold the power button to turn the unit on, and then double press the power button in order to set the unit into its booster temperature setting. Next, press the power button every 45 seconds or so to keep the unit going. You want this unit to stay on for about 10 to 15 minutes. This will get rid of all of the manufacturing oils that may have gotten into the unit as a result of putting it together. Once that's done the unit is ready for use.
To load your Crafty vaporizer you're gonna need two things. The first thing is freshly ground botanical. To grind up your botanical we always suggest using the Zeus Bolt Grinder. It's been calibrated to grind up your botanical to that perfect consistency. That means it's fine enough to be efficiently vaporized inside of your unit but not so fine that it slips through the screens. The second thing you're going to need to do is twist off the top to expose the heating chamber. Once it's open, take your botanical and fill up the heating chamber all the way to the top. If you don't intend to fully fill your heating chamber, fill it up as much as you'd like then use the aroma pad to fill the rest of the space inside the heating chamber. Once you're done take the top and place it back onto the unit and twist it to lock it in place.

The Crafty vaporizer comes with a default basic temperature of 190°C and a default booster temperature of 195°C. But these temperatures can be customised by each and every connoisseur to suit their own personal needs. This can be done using the Crafty app. Once the app has been downloaded to your smartphone and has been connected to your Crafty vaporizer you can set the basic and boost your temperatures from anywhere between 40°C and 210°C. For best results we suggest vaporizing your botanical between 190°C and 210°C. For use of extracts we suggest vaporizing at 210°C. Once your unit has been loaded to use a Crafty vaporizer press and hold power button to turn the unit on. Once the unit is on you can also double press the power button to engage the unit in its booster temperature setting. When unit has reached temperature it'll give off a short double vibration. Then swivel out the mouthpiece and take deep draws to enjoy your vapor. The unit has a 60 second auto shut-off. So it may be necessary to press the power button every 45 seconds or so to keep the unit from turning itself off.
To wrap this video up I'd like to tell you guys about some of the impressive features that make the Crafty vaporizer such an amazing unit. The first is that it's super compact. Use of the single lithium ion battery makes this unit really small so that it's super easy to carry it around with you no matter where you want to take it. The second is that this unit has amazing vapor quality. Storz and Bickel are known for creating stationary vaporizers that have amazing vapor experiences and they've brought all the quality that you've come to know and expect from their stationary vaporizers into the portable world using the Crafty vaporizer. The third thing is this unit is really customizable; using the Crafty app you can set the basic and booster temperatures as well as whole other settings in the vaporizer to suit your personal needs easily and quickly.
This vaporizer is great for any kind of connoisseur who's looking for unit that delivers incredible vapor quality and a super portable package to create a top of the line experience that they can enjoy on the go.

I'm Keagan for TorontoV TV. We hope you enjoyed this video and we hope you find it useful. And for all you connoisseurs out there: "Keep vaping!"

How It Works
The 2018 revision of the Crafty isn't any different to use than the previous models, though we'll run through how to operate it anyways. Check out our handy Crafty tutorial video above to get a more in-depth overview of the device itself.
After twisting off the top and loading up the chamber with ground herb, the single button on the bottom will turn the unit on. It'll being to heat-up to the preset temperature of 356°F/180°C by default, or a custom setting which you can configure using the app.
Activating the 'Boost' mode by double tapping the button again will raise the temperature by 59°F/15°C by default, or again by whichever setting you choose on the app. With the update that rolled around, you can also extend the automatic shut-off timer by 5 more minutes, as well as manually turn on the device remotely.
Temperature Flexibility
The Crafty can be adjusted to anywhere between 104-410°F, or 40-210°C, which is a pretty large range to choose from – there's a catch though. You cannot manually adjust the temperature of the Crafty on the unit itself. It must be done via the Bluetooth App, which requires you to whip out your smartphone in order to make any adjustments.
Technically, you can adjust the temperature on the unit itself, though that's limited to using the boost mode, which gives you a total of two temperature settings on the unit itself, with the potential to adjust both of those to your own desire.
I'm not sure why Storz & Bickel went for this route at all. They easily could've had multiple presets be available by the press of the button. I was really hoping that an updated 2018 model would've solved this problem, but it looks like we're stuck with a very lack-luster temperature control situation.
Users who do not want to be dependant on their phone apps to change the temperature of their devices usually tend to go for units like the Flowermate V5 Nano.
Vapor Quality
What the Crafty may lack for in temperature control, it makes up for it with stellar vapor quality! It doesn't quite keep up with the vapor quality of the bigger brother, the Mighty Vaporizer, though it does certainly perform at the top tier nonetheless.
The cooling chamber does a great job at smoothing out the hit before it reaches your lungs, while retaining a lot of the original terpene profile. You can take large, cloudy hits that are packed with flavor and potency. We would recommend you to use Zeus Iceborn that enhances the vapor quality by 2 points.
The Crafty performs quite well with concentrates in a pinch, though I still find myself reaching for a dedicated wax pen vaporizer instead.
Overall, the Crafty has top tier vapor quality, and it's taken to the next level when used in conjunction with a water pipe. Smooth, flavorful hits with plenty of backbone behind it! If you want similar vapor quality to the Mighty in a smaller package, the Crafty certainly has you sorted out!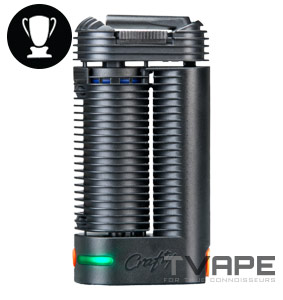 Manufacturing Quality
Going off the terrific reputation Storz & Bickel has already established, the Crafty is built exceptionally well. The rugged design lends a lot of trust in terms of reliability, and the Crafty is definitely a unit that can take a beating if it needs to.
Alongside a great warranty and excellent customer service, Storz & Bickel hits you up with plenty of accessories right off the bat. Included with each purchase comes a charger, spare o-rings, replacement screens, concentrates pad, loading tool, grinder, cleaning brush and instruction manual.
Each piece and part of the Crafty feels well-built and there's a reason there's such a strong following behind their products even though they are highly priced like the Volcano Hybrid.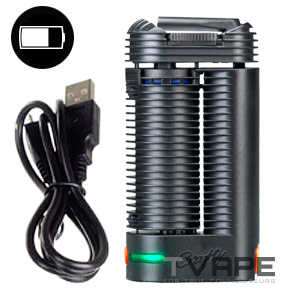 Battery Life
Storz & Bickel thankfully addressed one major problem the original Crafty suffered from. They increased the battery life by a respectable 20%, allowing for roughly one more full chamber per charge before needing to top up again. This allows for roughly 4-5 sessions per full charge, depending on the temperature you've set it at.
This is average when compared to other devices. Users can now enjoy more than 14 sessions per battery charge using devices like the Arizer Solo 2. It has 3 hours of battery time. There is one other problem with the Crafty – the battery isn't removable. Not every vaporizer needs to use 18650s, however, when the battery does eventually reach the end of its lifespan, you're going to be left with a very expensive paperweight.
You do get partial pass-through charging if the battery is roughly 20% charged. To top up from flat until full does take roughly 2 hours when using the included charger.
It would've been nice to see them introduce a removable battery pack, even if it was proprietary. That way you could change out the pack once it started dying rather than having a vaporizer that's only good for one or two bowls.
Portability
The Crafty is a perfect pocket companion. Of course, it's not as tiny as the Zeus Arc, though it stores away in the average pocket quite well! The tough build quality also leaves you confident when throwing it in a bag without fear of damaging any fragile glass pieces or scratching a chrome finish.
Ease of Use
Exceptionally easy to use, the Crafty can be handed off to a friend or stranger for some heavy hits with no coaching involved. Ofcourse it's not as easy as using the LITL 1 Vaporizer that has just one preset temperature but there's no special draw technique or voodoo magic either that needs to be summoned in order to get great results with it. Just make sure to not pack down your herbs too tightly when loading it.
Cleaning the Crafty is equally simple, especially if you use their dosing capsules. The cooling unit does require deep cleaning, and I like to get it squeaky clean every 10 sessions or so. Some cotton swabs soaked in some isopropyl alcohol will make quick work of any build up and residue.
Discreetness
The Crafty comes in perfectly average in terms of discreetness. It's small enough to be barely visible when held in the hand, though unlike Davinci IQ it may catch some prying eyes since it looks like some industrial walkie-talkie.
It does take roughly 60-90 seconds to reach operating temperature which is definitely below average by today's standards. This limits the ability to have a few quick draws before setting it down, making it not so great for settings where you just want to have a sneaky draw or two.
Overall Experience
The Crafty still holds its own, even now. It should be mentioned though that you do sacrifice quite a bit for the vapor quality. Without a removable battery, OLED display, on-board temperature control, and slow heat-up time, there are many units out there that offer improvements on all of these fronts.
For the price, users may be better served with a unit like the Utillian 722, which uses convection heating to produce comparable vapor at a fraction of the price.
It comes down to personal preference – are you willing to sacrifice some creature comforts for terrific vapor quality, or is a more rounded out user experience something you're after? Without a doubt, the Crafty will hit hard, though it doesn't blow the competition away like it did 4 years ago.
Compatible with ZEUS Iceborn
This vaporizer is compatible with the ZEUS Iceborn, a revolutionary new vapor cooling system engineered by Canadian vape manufacturer ZEUSArsenal. The Iceborn is designed to produce cooler draws and bigger clouds when connected to your vaporizer. The vapour produced is ultra smooth and crisp and because of ice cooling, instead of water filtration, there is no loss of efficiency. The ZEUS Iceborn adds an additional 2 points to the vapor quality score of this vaporizer and is a highly recommended vaporizer accessory.
Don't forget to follow us on 
Facebook
, 
Twitter
 or 
Instagram
 to keep up to date with all our contests, sales alerts and other fun stuff!
Thanks for reading and as always, keep vapin'! 😉