The Atmos Jump is a dry herb pen-style vaporizer that features a 1200mah battery and a single temperature setting. The most appealing aspect of this vaporizer is that it is pen-shaped which makes it extremely portable and very discreet. So without further ado, let's "Jump" around!
Review: Atmos Jump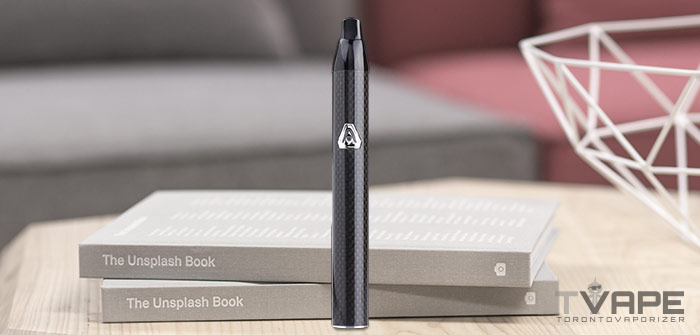 How it Works
To load your Atmos Jump twist the mouthpiece counter-clockwise to unlock it and remove it from the device. With the heating chamber now exposed, load your desired herbs into the heating chamber.
For best results, we recommend packing the herbs down tight enough that they won't move while drawing, but not so tight that it will restrict the airflow. Once you've loaded the chamber twist the mouthpiece back onto the Jump and you are ready to vaporize.
To turn on the Atmos Jump simply press the power button 3 times quickly. The LED on the front of the device with glow orange to let you know the device is now heating. The LED will turn from orange to green to let you know the unit has now reached temperature.
Now you can start to take slow smooth draws from the mouthpiece to enjoy your vapor. After about 5 minutes the device will shut down to preserve battery. To turn the device off by yourself, simply press the power button 3 times quickly.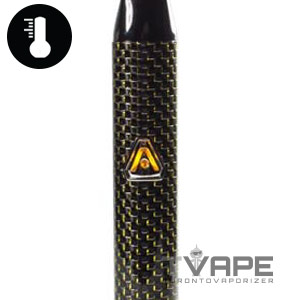 Temperature Flexibility
The Atmos Jump only has one temperature, which the manual informs us is 395F or 200C. This temperature is perfectly fine for vaporization, though depending on the user some may wish the Jump had a bit more power, while others may wish they could scale it back a bit.
We feel like not having temperature control is a bit of a missed opportunity for Atmos, but for the price of the unit, we can't be too harsh. We just hope this is something that is considered for future releases.

Vapor Quality
Because this unit only has 1 set temperature you really aren't able to calibrate your preferred type of vapor. Those who prefer thinner vapor and more flavor will find the Jump a bit lacking, same with those who want to achieve denser vapor.
The Jump's vapor quality is somewhere in-between those 2 extremes and looks to satisfy a wide range of users with its middle of the road temperature selection.
Like most units with a short vapor path we did find the vapor a bit warm on the mouth and a tad bit irritating, but it's not nearly as harsh as a unit like the G-Pen Elite. But it's also not as smooth as a unit like the Zeus Smite.
For a simple pen-style device, the vapor quality is adequate, but not amazing, the flavors of your herbs tend to be lost relatively quickly, but the device is able to produce some decent visible vapor. 

Manufacturing Quality
The Atmos Jump's exterior features a cool carbon-fibre design and the chamber is anodized steel which looks blue to the naked eye. The unit itself feels like a solid build and is a pleasure to hold in the hand.
Our biggest worry with the Jump is the longevity of the mouthpiece which is made from plastic. While the plastic doesn't seem to affect vapor quality, our main concern is focused on durability. We are not confident the mouthpiece would survive any type of drop on a hard surface.
The mouthpiece also features teeth that allow it to lock into the device. With constant locking and unlocking, we are curious to see how durable these teeth are with repeated use. We have seen issues before where plastic teeth chip and lose the ability to lock, so this is something we are definitely going to keep an eye on. 
Battery Life
The Atmos Jump features a 1200mah internal battery to power the device. From our tests, we found the unit lasted roughly 30 to 40 minutes of continuous use. Seeing as each cycle of the Atmos is 5 minutes, the device should be able to get you at least 6 sessions before it needs to be charged.
The downside to this unit is that the battery does tend to take a while to charge, nearly 3 hours by our tests. To be honest, we wish the charge time was a little better, 3 hours is a long time to wait for only 30 minutes of vaping. But if you only use the device once or twice a day, it has a potential of lasting you a couple days with requiring a charge.
Hopefully, in future iterations, Atmos will address the long charge times, which would make this unit a much more viable device.
Portability
This device is an extremely portable unit and gives the Grasshopper a run for its money. It can easily fit into a pocket, bag or Zeus Armor Case for easy transport.
With 30 minutes of battery life of your disposal, it should be able to get you through the day as long as you keep your sessions within the 5-minute cycle.
Ease of Use
The Atmos Jump is extremely easy to use as it only features a single button and a single temperature. There is practically no learning curve with this device, just pack it with your desired herbs, turn the unit on and enjoy.
The draw may be the only thing that requires some finesse when operating the Jump. For best results we found slow, smooth draws work best. Hard or harsh draws tend to draw your herb up towards the mouthpiece which will result in a loss of airflow and uneven heating.
Overall Experience
The Atmos Jump does a decent jump of providing true vaporization in a pen-style package, especially for the price point. However, it suffers from a lack of temperature flexibility, warm vapor, a delicate mouthpiece and long charge times.
While people may be drawn to the pen-like design, we would highly suggest checking out the Utillian 420, a much more capable unit for a relatively similar price. The Utillian 420 provides users with 4 temperatures, a digital display, and a glass mouthpiece for a better vapor experience. The 420 is perfectly portable and better equipped to introduce those on a budget to the world of vaporizers.
Compatible with ZEUS Iceborn
This vaporizer is compatible with the ZEUS Iceborn, a revolutionary new vapor cooling system engineered by Canadian vape manufacturer ZEUSArsenal. The Iceborn is designed to produce cooler draws and bigger clouds when connected to your vaporizer. The vapour produced is ultra smooth and crisp and because of ice cooling, instead of water filtration, there is no loss of efficiency. The ZEUS Iceborn adds an additional 2 points to the vapor quality score of this vaporizer and is a highly recommended vaporizer accessory.
If you have questions about our Atmos Jump review or just want to let us know what you think, feel free to drop us a comment below! Also, don't forget to follow us on Facebook, Twitter or Instagram to keep up to date with all our contests, sales alerts, and other fun stuff! Thanks for reading and as always, keep vapin'!