The Aspire Zelos 50W kit packs everything you need to get started vaping into one affordable package. The box mod has a good battery powering it, and it includes advanced features that help drive better vapor production and flavor. The included Nautilus 2 tank is well made and designed for mouth to lung style draws, and the combination of it and the base is pleasing on the eyes. If that's not enough to get you interested, keep reading and you will be by the end… but before we do that be sure to check our vape buyer's guides for important information to consider before making your first purchase.
Review: Aspire Zelos 50W Kit Review
Manufacturing Quality
Let's just get right to it: the build quality for this kit is fantastic. From the mod to the tank, we're very impressed with the attention to detail. For starters, the design is slick. The curved edges, color schemes, and quality materials give the Zelos a high-end appearance.
 More importantly, there really isn't anything missing from this in terms of functionality. The mod offers modes for wattage, voltage, bypass, and temperature control. The temperature control options include stainless steel, nickel, and titanium.
Users who are interested in 510 thread cartridges for oil often prefer the Tronian Tautron.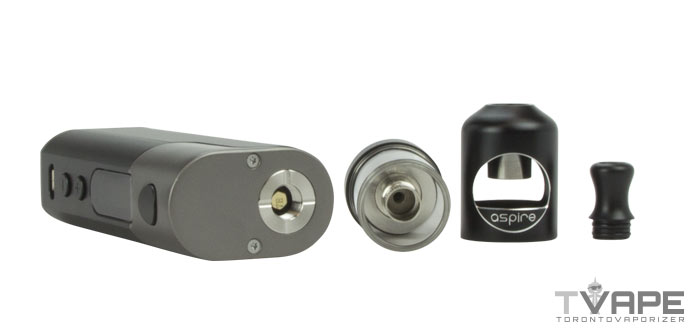 The battery is also well-sized at 2500mAh. The only thing that some people may want that this doesn't have is more wattage, but for the vast majority of people, 50W is already overkill.
The Nautilus 2 tank is also very well made. The bulk of it is 304 stainless steel, and the clear parts are borosilicate glass, not plastic. It fills from the top, and the airflow is easily adjusted between 5 different levels at the bottom of the tank.
On that note, this setup is designed primarily for mouth to lung style vaping. Many vapes struggle to do restricted draws well without burning, but this one manages to do it while preserving great flavor.

Flavor Quality
The flavor is outstanding. Like mentioned above, this kit is designed for restricted/mouth-to-lung style vaping. Limited airflow sometimes leads to poor performance from the atomizer coils, but this does well even when you only have one airflow hole open.
While all the different settings can be overwhelming for many first-time users, they also help guarantee that you get optimal flavor regardless of what tank and coils you put on top.
The temperature control options are especially helpful in this regard, and you can always just default to wattage control if that's what you're comfortable with. If you are someone who also uses 510 oil cartridges and other vapers have reported Smok Micare is a good place to start.

Power Flexibility
I already mentioned all the power options above, but let's go over it again. There isn't anything missing. You can control wattage, voltage, temperature, and resistance depending on what settings you are using.
There are vapes out there that offer more than this one, but not many. And the ranges that this one offers are wide enough to cover the needs of 99% of vapers.
 Consider the fact that the wattage range is 1W to 50W. The temperature range is 200F to 600F. The resistance range is 0.1 Ohms to 3.5 Ohms for variable wattage/bypass mode and 0.05 Ohms to 1.5 Ohms for the temperature modes. Again, for most people, this will more than cover their needs.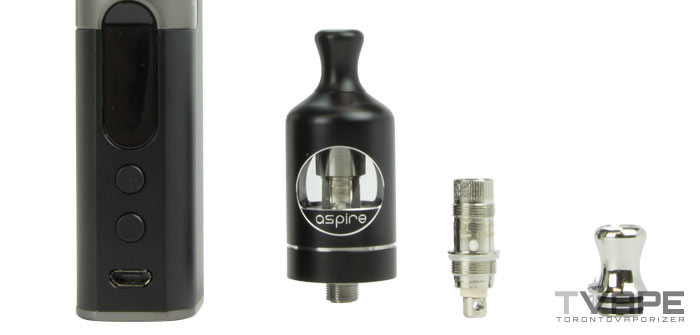 There is a trade off that happens when you pack a bunch of features into a small device with only a few buttons: it becomes a bit more confusing to learn how to use. To use this properly, you'll need to become familiar with what different combinations of button pressing will do, and the process can take some getting used to.
It's not really worth explaining all that now, because you'll want to have the actual device in your hand if you want to memorize the combinations.
 I don't want you to think that this is overly complicated though, and once you have your settings chosen, the device is very simple to use. The top-filling tank makes it easy to refill when you run low, and using it is as straightforward as pressing the fire button and drawing.
 There's one other thing that we liked. The OLED screen automatically flips to display based on what side is up, making it very easy to read. In the grand scheme of things, this is a pretty small feature, but it's still a nice bonus.

Portability
The portability of the Zelos kit is good, though not exceptional. Its size and shape are right in the range that would be considered average for box mods, so it's not really any more portable than the majority of options on the market.
 If portability and stealth are your biggest concerns, you may want to look at mini box mods like the iStick Pico or the Vaporesso Target Mini. You'll sacrifice in other areas like battery life and overall functionality, but their small size makes them very convenient to carry around.
 With that being said, the Zelos isn't inconvenient, and the battery size makes it a good option for lengthy periods without access to power for charging.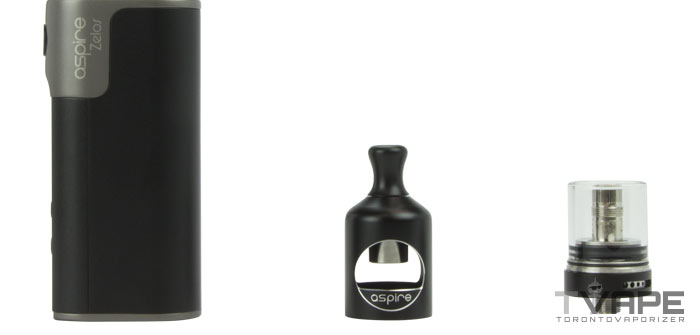 Overall Experience
The Aspire Zelos 50W kit packs a powerful punch. The range of power and temperature options don't leave anything to be desired, and the included Nautilus 2 tank works great.
As mentioned throughout this review, this kit is designed for restricted or mouth-to-lung style draws. If you are attempting to switch from cigarettes, this kit does an extremely good job at replicating the draw resistance without causing overheating problems with the coil.
 Overall, this kit would be great option for the majority of people interested in those mouth-to-lung draws. The only reason to avoid it would be if you want something simpler to use or if you need something very small and discreet.
If you are looking for a larger unit that offers a bit more power be sure to check out the Coolfire IV 100W.
We hope you enjoyed reading our Vaporesso Target Mini review! We would love to hear from you! Feel free to leave a comment in the section below, you can do so anonymously 😉 Don't forget to follow us on
Facebook
,
Twitter
or
Instagram
for contests, sales alerts and other fun stuff! Thanks for reading and as always, keep vapin'! 😉