The Aspire X30 Rover kit comes with an NX30 mod and a Nautilus X tank, which is designed for mouth-to-lung style vaping. This style is generally preferred by former smokers who are new to vaping, and our initial impressions suggest that this kit will be a great option for exactly that audience. Today we'll dig into the specifics to help you figure out if this is the right kit for you… Also be sure to check our vape buyer's guides for important information to consider before making your first purchase.
Review: Aspire X30 Rover Kit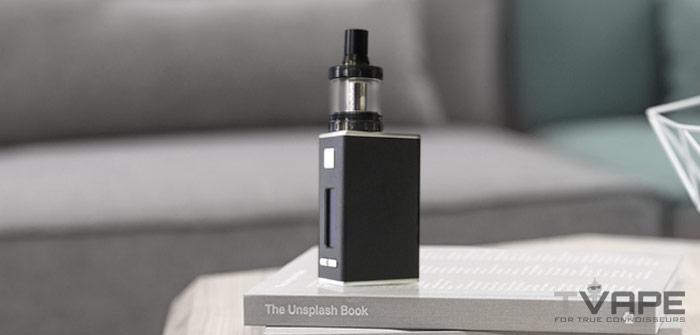 Manufacturing Quality
The manufacturing quality of the X30 Rover kit is good. The NX30 mod isn't all that impressive, but it works well and is reliable. It has three buttons and a simple screen, all of which are located along the side. The maximum wattage is only 30w, but that's more than enough for what this vape is designed for. I'll talk more about this below.
The Nautilus X tank is designed for mouth-to-lung style vaping, and it's made very well. The most interesting feature is the "u-tech" airflow and coils. When you take a draw on the Nautilus X coils, the air actually goes in the top and passes through the coils in the shape of a U, meaning it flows over coils twice. If you are someone who also uses 510 oil cartridges and other vapers have reported CCELL Palm is a good place to start.
Based on their website, Aspire also seems keen on advertising the ability to carry the NX30 with a lanyard. I can't see myself wearing my vape like a necklace, but I found it amusing enough to share with you…


Flavor Quality
In my experience, the flavor produced by the Nautilus X tank is very good. With that being said, that wasn't my initial impression. I was very excited to try the Nautilus X the first time I got one because of the new airflow design.
Aspire was suggesting that this would lead to highly improved flavor, especially for mouth to lung vaping, but when I tried it at first, the flavor wasn't there at all.
As it turns out, this is a simple case of coils that need to be broken in. The first few times you vape on them, you may find that the flavor is extremely muted. Don't give up.
If you keep using it, the flavor comes around in a very big way. True to the advertising, I'd say this is a great tank for mouth-to-lung vaping thanks to the flavor and overall vapor production.

Power Flexibility
The power flexibility of the NX30 mod isn't all that great, but it doesn't need to be. You typically aren't going to need high power to do mouth-to-lung vaping well, so the target market for this tank may never get anywhere close to the 30w max power, even if it may seem low to other vapers.
If you are looking for a 510-thread battery for oil cartridges we suggest checking out the Yocan Uni Pro.
The 1.8 ohm coils for the Nautilus X tank are only rated for 12-16 watts anyway. If you are interested in the specifics, the NX30 can output 1-30 watts, and it can power coils with resistances between 0.2 and 3.5 ohms.
This kit is very easy to use. The basic functionality is identical to most other vapes.
Five clicks of the fire button turns the unit on, and pressing and holding that same button is what delivers power to the coil when it's on.
The plus and minus buttons are what you use to adjust the wattage. Pressing and holding both the plus and minus button at the same time will also rotate the screen. 

Portability
The portability of this kit is good. The mod is very small, and the tank doesn't leak. This is what I would consider the bare minimum to be considered portable, but it's a start. While the battery only has a 2000mAh capacity, it goes a long way because you'ld typically be vaping at less than 20 watts on this thing.
I almost forgot, you also get the extreme convenience of carrying this with a lanyard. Just what the vape community has been waiting for! I'm obviously joking, but I suppose you could use this feature if you don't mind having a vape hanging around your neck in public.

Overall Experience
The Aspire X30 Rover kit may not be the most versatile or high-powered option out there, but I still think it's a great option for people who are looking to buy a vape to help them quit smoking.
It's easy to forget, but most people don't turn to vaping because they have a deep desire to blow huge clouds from their lungs. They just want to use new technology to help them break the unhealthy routine of regularly inhaling toxic smoke.
If you fall into this category, then the Aspire X30 Rover kit may be an excellent purchase for you. It's easy to use, it's designed for mouth-to-lung draws, and it's also extremely affordable. The flavor is also great, and you even get some sweet lanyard action. What more could you ask for?
Those of you who may want a vape that is more portable we highly recommend the Vaporesso Target Mini.
We hope you enjoyed reading our Aspire X30 Rover review! We would love to hear from you! Feel free to leave a comment in the section below, you can do so anonymously 😉 Don't forget to follow us on
Facebook
,
Twitter
or
Instagram
for contests, sales alerts and other fun stuff! Thanks for reading and as always, keep vapin'! 😉