Following up on the success of the Nautilus AIO is Aspire's latest offering which comes in the form of the Aspire AVP AIO. It's pretty obvious at this point that Aspire is no stranger when it comes to designing and manufacturing high quality and well performing portable pod-style kits which is why our expectations for the Aspire AVP AIO are pretty high. Let's take a closer look at the  Aspire AVP AIO and see what it has to offer over the competition.
Review: Aspire AVP AIO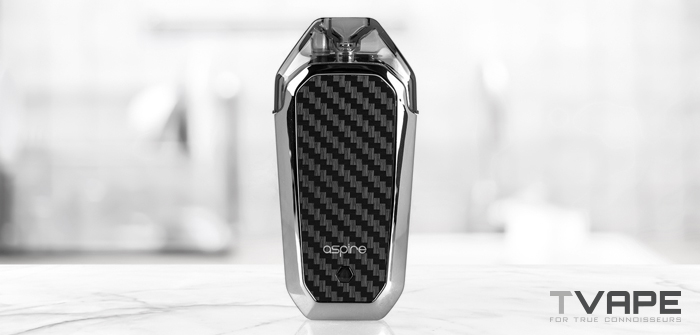 Manufacturing Quality
Upon a precursory glance, the  Aspire AVP AIO doesn't really do much to stand out in the aesthetics department and reminds us of similar units like the Vaporesso Nexus. Styled into a simple and spartan oval shape, the kit is comprised of two parts; namely the battery unit and the pod itself which holds the coil and e-liquid used for vaping. The main body offers a clean yet smart looking facade in the form of some carbon fiber paneling on either side which helps give off a no-nonsense vibe that looks good and feels practical to touch and use.
The non-busy aesthetic of the  Aspire AVP AIO kit is mostly due to the one button design which lends an air of approachability, especially where newcomers to vaping are concerned. You won't find a dedicated LED display here. The lack of auxiliary buttons which are normally found on more advanced devices helps maintain the clean look of the  Aspire AVP AIO which should help add some brownie points especially for the fans of minimalist designs out there.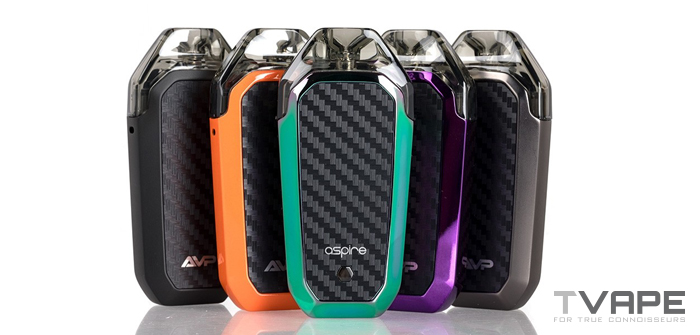 Where quality is concerned, the device is built pretty well thanks to its zinc-aluminum alloy chassis giving the kit a pretty premium hand feel. The device doesn't creak or rattle when handled,  exemplifying the tight tolerances that Aspire implements on their devices when it comes to overall build quality. The magnetic assembly used to connect the pod to the battery is further proof of this, allowing you to easily connect and disconnect the pod for quick setup and maintenance.

Flavor Quality
If there's one thing Aspire has got down pat, its the overall quality of their coils when it comes to flavor production, as we learned from their Aspire Breeze 2. Coupling this with the excellent airflow design has been a winning formula for Aspire and its good to see that the same credo has been applied to the  Aspire AVP AIO. The kit includes two refillable Aspire AVP pods which are both rated at 1.2 ohms of resistance and offer a wattage output range of 8-12 watts.
Flavor production feels clean and smooth without any muted flavors or noticeable aftertaste.  The airflow design feels restrictive enough and should satisfy most MTL (mouth to lung) enthusiasts out there. Not only is the airflow smooth, but there's also a distinct lack of any turbulence or whistling which is always a good indicator of a well-designed airflow system. Vapor production might not compare to other high powered devices out there, but the Aspire AVP AIO manages to eke out some respectable clouds nevertheless.
Power Flexibility
Despite the lack of true variable wattage offered in the Aspire AVP AIO kit, the device still manages to offer a decent level of power options when it comes to choosing your preferred output to vape at. The physical button found on the device allows cycling between 8 watts, 10 watts, and 12 watts of power and while that might not seem like much for those who are used to more complicated box mods, its plenty enough for those who use the Aspire AVP AIO with nicotine salt e-liquids and the differences in power output is easily felt when cycling between power modes.
If you are someone who also uses 510 oil cartridges and other vapers have reported PCKT One Plus is a good place to start.  
In addition to this, the Aspire AVP AIO also uses a nichrome heating element in their pods which has the advantage of heating up and cooling down a lot quicker than your typical stainless steel or kanthal coil systems. What this translates to basically is a more durable pod/coil system that should easily compare if not best what the rest of the competition has to offer. While true temperature control is not something you can expect out of this kit, the device does offer some rudimentary protections built in such as short circuit protection as well as overcharge and overheat protection which should put a lot of beginners at ease when it comes to operating and maintaining their device.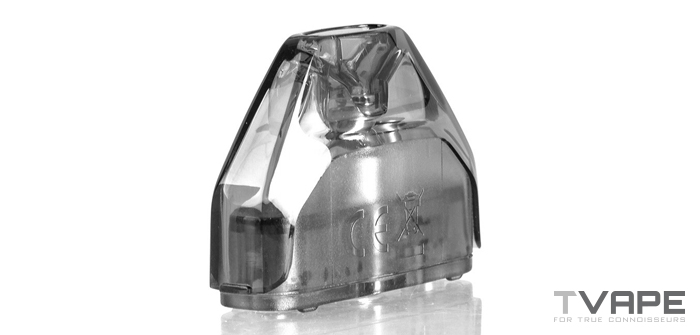 Ease of Use
Thanks to the Aspire AVP AIO's air-activated sensor that automatically fires up as soon as you take a puff, the device is a breeze to use even for those unfamiliar with electronic cigarettes.  The one button operation not only makes it easy and hassle-free to swap between the various available power modes, but it also allows you cycle the kit between an on and off state which helps reproduce a safer vaping experience overall especially for those who tend to store their devices in their pockets or bags for safekeeping.
One small issue we had which we felt gets in the way of the devices smooth operation is the overly tinted pod window which can make it a bit challenging when it comes to viewing remaining e-liquid levels. This is especially emphasized in poor lighting conditions and we feel that the built-in LED that lights up when taking a pull is not sufficient when it comes to properly highlight the pod in the dark.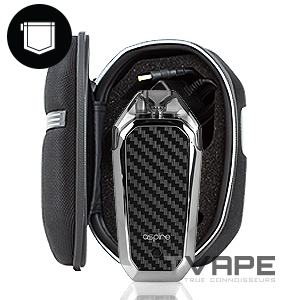 Portability
Compared to the rest of the Aspire's offerings, the Aspire AVP AIO isn't exactly the best when it comes battery life as it offers only 700mAh of battery power. This is far from insufficient however as the kit can easily get through two entire 2ml refills on a single charge before you're required to charge it via the onboard micro USB port. To give you some perspective it's normal for most vapers to consume around 2-3ml of e-liquid in a single day so the average user shouldn't have any problem getting through an entire day on a single charge.
If you are looking for a 510-thread battery for oil cartridges we suggest checking out the Yocan Wit.
When it comes to overall size, the dimensions of the device is sufficiently compact measuring out t 82mm by 39mm by 14mm, making it easy to palm and pocket for the vaper on the go. The fact that the device is easily palm-able makes it a great option for those looking for a stealthier option when it comes to vaping in public.

Overall Experience
While the Aspire AVP AIO Pod kit doesn't really do anything to break out of the typical mold that's been cast for most portable pod-style devices, it manages to fill in the gaps well by providing a more than satisfactory vaping experience. Its strong flavor production coupled with its compact and stylish shape should appeal to most beginners especially when considering just how easy the device is to use.
We hope you enjoyed reading our Aspire AVP AIO review! We would love to hear from you! Feel free to leave a comment in the section below, you can do so anonymously 😉 Don't forget to follow us on
Facebook
,
Twitter
or
Instagram
for contests, sales alerts and other fun stuff! Thanks for reading and as always, keep vapin'! 😉