The Arizer Air 2 is an updated version of the Arizer Air. The Air 2 still has a removable 18650 battery, but it now has better battery life and USB charging. More importantly, it has a digital screen and full temperature control. Let's see how it performs now. Also if this is your first vaporizer be sure to check out our Vaporizer Buyers Guide.
Review: Arizer Air 2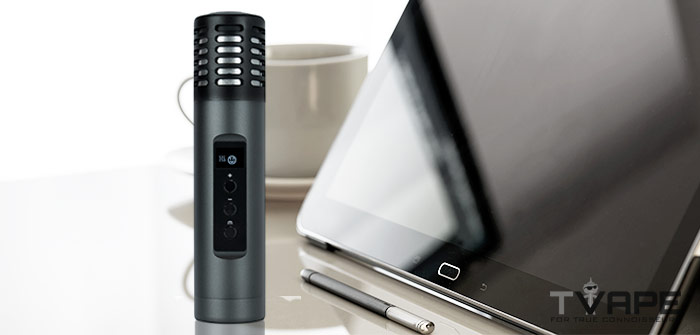 How it Works
For the most part, the Air 2 is a lot like the original Air. The only big difference in functionality comes from the digital screen. This unlocked precision temperature control, which is definitely a nice upgrade over the original Air's five temperature presets.
The base is still the same size, and it still runs off a removable 18650 battery. The battery it uses does have a higher capacity though, allowing this to get slightly better performance than the original.
The screen is very simple. It's just there to tell you the temperature and battery level, which is all you really need anyway. Below the screen are three buttons. These are used for turning the device on, adjusting the temperature level, and choosing between displaying in Fahrenheit or Celsius. You can also do less important things like adjusting the brightness.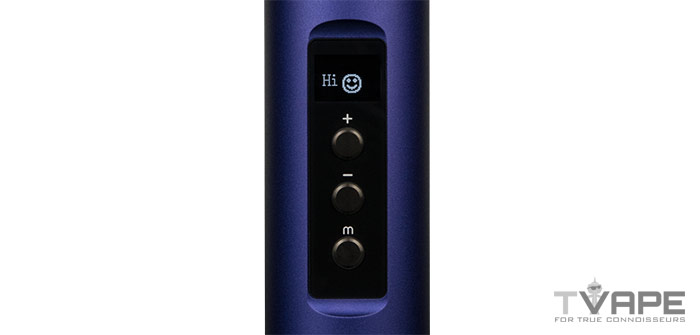 The heating chamber and vapor pathway don't seem to have changed much at all. The heater may be a bit more powerful, but it doesn't seem to be a huge upgrade. The vapor pathway is still glass stems, and you still load the Air 2 by putting ground material in the stem and then putting the stem in the chamber.
Just to be clear, the fact that the functionality is largely the same isn't a bad thing.
Temperature Flexibility
The temperature flexibility is obviously significantly improved. As I explained above, the original Air only had five presets to choose between with the highest being 210 degrees Celsius.
Now you have the luxury of full temperature control up to a maximum of 220 degrees, down to the exact degree.
This is a nice upgrade that Arizer gave to both the Air 2 and the Solo 2 when it was released.

Vapor Quality
The vapor quality of the Air 2 is very good. For best results we recommend drying your herbs first with a dehumidor box. The vapor is flavorful and smooth, although it's not as dense as some vaporizers can deliver.
It really isn't any different than the original Air's vapor in these respects. I know some people were hoping for denser vapor and while the pumped up max temperature will deliver slightly denser clouds, it really isn't much different .
The draw restriction is slightly improved, but it's almost not enough to notice. I had to try both back to back to even discern the difference. I was hoping for a bit more improvement in this respect, especially after the Solo 2.

Manufacturing Quality
The manufacturing quality is also very good. They basically took the original Air, which was already a well-built vaporizer, and made a bunch of small improvements to make it better. Once again, the only big difference is the digital screen and temperature control, but there are other things worth mentioning as well.
For example, the heat up time is a little faster. It's hard to say exactly how much because it takes longer as the charge drops. On a full charge it takes about 1 minute and 30 seconds to reach max temperature and I'd say that it can beat the original Air by about 20 seconds to any similar temperature level. Not a lot, but still better.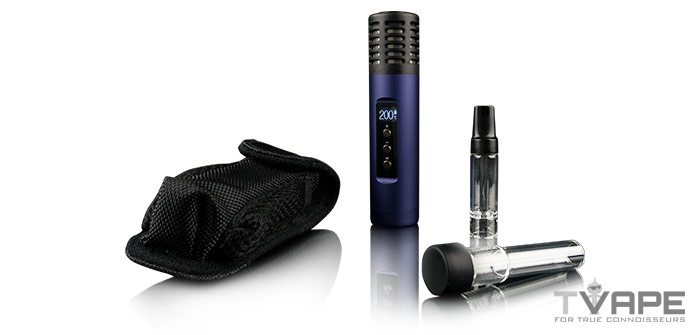 The battery life is also better, but I'll explain that in the next section. You can also charge it via USB.
Aside from these things, you can count on the same durable and reliable vaporizer as the original.
Battery Life
The battery life is definitely better. I tested it by setting it at the max temperature and seeing how many sessions it could handle. I got at least six sessions of 13 minutes each for every charge.
Specific time per charge ended up being between an hour and twenty minutes and an hour and a half. Again, that is when maxxing out the temperature.

Portability
The portability didn't change at all from the Air to the Air 2, unless you count the improved battery life. That means the portability is good, but not really comparable to something like the DaVinci IQ.
You'll need to have something to carry it in, like a vaporizer case and the only way you can prepack is if you use caps for the stems. Two of these caps are included with the Air, and I highly recommend using them.
Ease of Use
The Air 2 is very easy to use. The screen is definitely user friendly, though I'm not sure if it is actually any easier than the original Air.
I guess it makes it easier to know what temperature you are using since you don't have to remember what the colors correspond to.
Regardless, a complete beginner should have no trouble getting very enjoyable vapor from this.

Discreetness
I love Arizer products, but I've never found them to be very discreet. The glass stems sticking above the base make it hard to conceal what you are doing when you are using one of their vaporizers.
The Air 2 is no different. It's essentially the exact same size and setup as the original Air. I don't recommend using it in places where you wouldn't want people to know you were using a vaporizer.
Overall Experience
The Arizer Air 2 is a great vaporizer.
The digital screen and precision temperature control are big improvements over the original Air. It also heats up faster and has a better battery life. The vapor quality is still excellent.
I have to admit though, I was expecting more. The Solo 2 was very clearly bigger and more powerful than the original Solo, but the Air 2 doesn't feel all that different from the Air.
Don't get me wrong, the improvements are nice. I just would have liked to see more as well, like even faster heat up times and a more noticeable change to draw restriction.
In my opinion, this is definitely worth buying instead of the original Air and is even worth an upgrade to it's time to replace your original Air.
Personally, I would also choose the Arizer Solo 2 over this, because the only advantage this has is improved portability. But it's not really all that portable anyway. You can check out my direct comparison between the Air 2 & Solo 2 here.
If you have questions about our Arizer Air 2 Vaporizer review or just want to let us know what you think, feel free to drop us a comment below! Also, don't forget to follow us on Facebook, Twitter or Instagram to keep up to date with all our contests, sales alerts and other fun stuff! Thanks for reading and as always, keep vapin'!